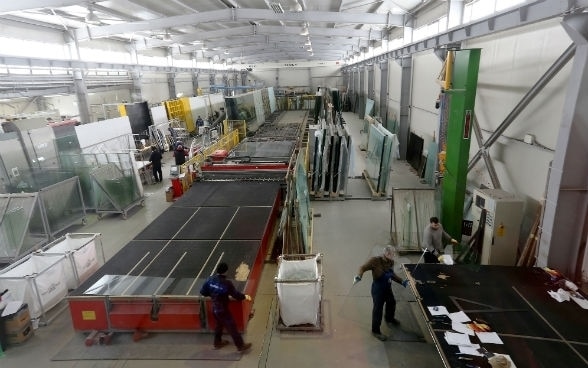 Romania has been hard hit by the financial and economic crisis. Although the economy is on the path to recovery and unemployment is falling, many young professionals are leaving the country because of limited prospects. Since Romania joined the EU in 2007, per capita income compared with the EU average has risen noticeably – by 15%. But the 2016 figures show that at 58%, Romania is still considerably behind the EU average.
Local prospects
In Romania, business ideas and entrepreneurial thinking are thin on the ground. But many local small and medium-sized enterprises (SMEs) cannot put their ideas into practice because they lack funds. To improve their access to the credit market, Switzerland has contributed CHF 24.5 million to a loan fund of the state-owned CEC bank, a financial institution with long-standing experience in funding SMEs as far back as 1864.
Around 3,300 jobs secured
The fund gives secured loans to Romanian SMEs active in a variety of sectors – manufacturing, tourism, health, clean technologies, transport, IT, construction and technology. Some 300 SMEs had obtained a loan by the end of 2017, helping to create and secure around 3,300 jobs. Agoterm 93 is one such SME that was able to benefit from Switzerland's contribution. The company specialises in window manufacturing and employs 26 people. With the loan from the bank it bought two machines that enable it to produce double glazed windows. Thanks to this investment, Agoterm 93 is now more competitive and can produce better quality and eco-friendly windows efficiently.
Each loan has a CHF 300,000 limit. The highest amount of interest the CEC bank charges on these loans is capped at 3.5% above the Romanian borrowing rate on the interbank market, making it a comparatively attractive interest rate. Switzerland co-finances up to 70% of the loans and the remaining amount is covered by CEC. The SME repays its loan once it is due; this goes back into the capital and loan fund and is then used by the bank to finance additional loans. Switzerland will continue to participate in the scheme until the end of June 2019, but the fund itself will remain in place long after the enlargement contribution has come to an end.