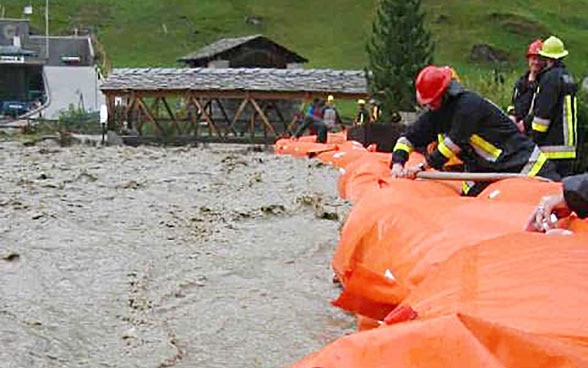 North-eastern Hungary is frequently hit by floods. These are caused by climate change as well as human activities such as deforestation in the basin of Hungary's second largest river. The result is frequent flooding with ever increasing damage. Preventing such damage is therefore of national importance to Hungary. In the period between 2012 and 2016 Switzerland contributed to Hungary's efforts to cope with natural disasters and emergencies. This has led to increased public safety for the local population.
Mobile dams provide fast and efficient flood protection
Through its enlargement contribution, Switzerland invested in mobile protective dams from Beaver Protection Systems Ltd. In an emergency situation, there are now 12.5km of mobile dams available and 1,500 people trained to use them. This solution provides immediate protection for the areas most at risk from flooding in central and north-eastern Hungary. It also serves as an economical and ecological alternative to conventional sandbag protection. Sandbags take a lot of time and effort to set up, and their disposal can pollute the environment. Water-inflated mobile dams provide fast and efficient protection, and this saves valuable time for protecting people and their property. As they are easy to transport, mobile dams are also ideal for remote sites with difficult access and poor transport infrastructure. Thanks to these measures, at least 180,000 inhabitants of northern Hungary now benefit from improved flood protection. This is all the more important in the context of the wide social and economic divide between the capital and rural areas, which is often perceived as a disadvantage. The enlargement contribution has thus helped to counter the trend of rural depopulation.
Successful project presented in Davos
The fact that the project is now being presented at the 2019 World Economic Forum in Davos – under the heading 'Tech4Good' – shows how important it is. The key factors of its success were a combination of financial support with innovative technologies and expertise. The event gives the SDC's partner organisations an opportunity to inform a wider public about their cooperation and to network among themselves. "How can we better harness emerging technologies for sustainable development, particularly in challenging contexts and in a way that will benefit the world's poorest?" This is an important and urgent question at the heart of Davos 2019.