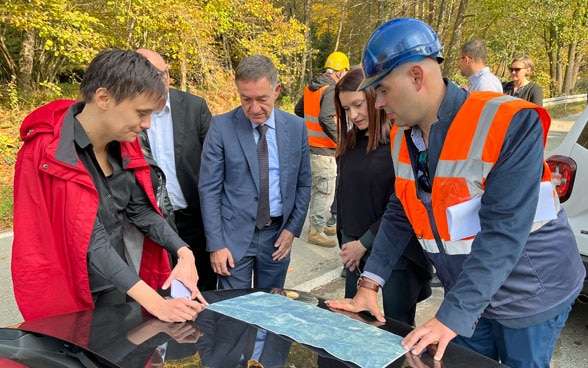 Continuation of cooperation with proven partners
The second Swiss contribution to Croatia amounts to 45.7 million Swiss francs. As Croatia only joined the EU in 2013, the cooperation programme of the first Swiss contribution (CHF 42.75 million) still runs until 2024. This will allow for seamless continuation of the cooperation with proven partners in Croatia. The second cooperation programme will be implemented until 2029. Thematically, the focus is on water and wastewater management, research and innovation, support for civil society and palliative care.
Visit to water and sanitation projects in Croatian Switzerland
As part of the celebrations for the signing of the bilateral implementation agreement, the Swiss delegation visited Gorski Kotar. In this mountainous region, the so-called Switzerland of Croatia, Switzerland is supporting the development of water and wastewater infrastructure. Permanent access to clean water is an essential prerequisite for quality of life and regional development. The second Swiss contribution also focuses on the use of renewable energies such as small hydropower and on the further training of wastewater experts in the expansion of the water and wastewater infrastructure.
Cooperation in research, civic engagement and palliative care
In the area of research and innovation, Switzerland's first contribution supported promising small and medium-sized enterprises in the preparation and development of innovative projects. In addition, joint projects between research teams from both countries and career support for top Croatian researchers were promoted. These programmes contribute to increase the competitiveness of Croatian researchers and their integration into international networks. They will be continued with the second contribution.
Civil society organisations will also continue to receive funding. Their initiatives, which focus on strengthening civic engagement, contribute to the democratic and sustainable development of society.
Croatia and Switzerland will now cooperate in the field of palliative care. The overarching goal is to improve the quality of life of incurable patients and their families.