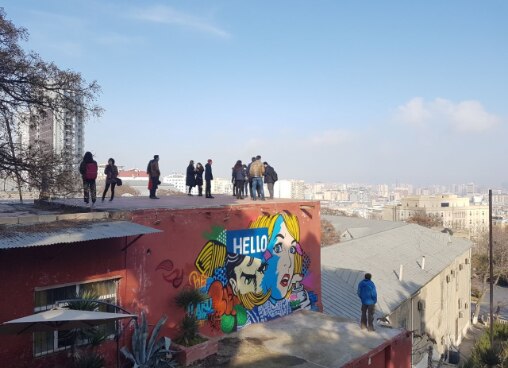 The open air exhibition raised interest of the people who enjoyed the Graffiti sprayed walls as a novelty for Azerbaijan. In early December the Swiss artist painted a whole external wall of the Art Villa with great views over Baku city, depicting two faces of a man and a beautiful woman disigned in comics style. On it a nice greating to Baku "Hello Baku" and some local hints hidden in the typical scarf with Buta signs.
After an introductory speach of Mr Dadash Mammadov, Founder of the Arts Council, and of Mrs. Liliana Pescini, Deputy Head of Mission of the Swiss Embassy in Baku, the participant at the Oil Barrel Workshop held on 9-10 December 2017 in the old city, received a diploma.
The exhibition was organized by the Embassy of Switzerland to Azerbaijan, the Arts Council Azerbaijan and the Ministry of Culture and Tourism of Azerbaijan.