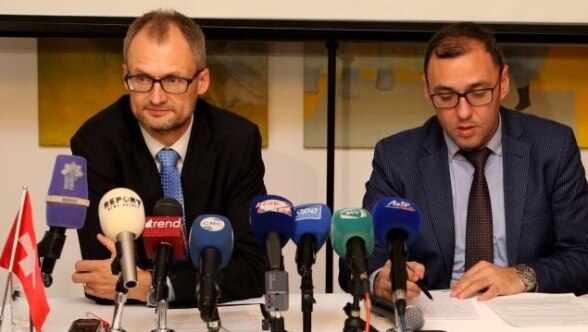 Ambassador Stalder congratulated the government and the people of Azerbaijan for the 100th anniversary of proclamation of the Azerbaijan People's Republic.  As a main topic, he informed the media about a musical event which will be organized by the Swiss Embassy on 27th and 28th January in Baku. The well-known Swiss Boogie-Woogie pianist, Mr. Silvan Zingg, will give two concerts at the Mugham Centre (tickets are available online: www.itickets.az ) and the Landmark Hotel. On 27th January, Mr. Zingg will also hold a Master Class & Jam Session together with Azerbaijani Jazz musicians like Rain Sultanov for students from musical colleges. During the press conference, the media received additional information about Mr. Zingg's  biography, the origins of Boogie-Woogie music and its popularity in Switzerland.
Among other upcoming cultural events, Ambassador Stalder and his Deputy, Ms. Liliana Pescini, mentioned an art exhibition of Vintage Posters about tourism in Switzerland, a photography exhibition of Swiss photographer Cedric Christopher Merkli along with a movie screening of the famous story of "Heidi" (more detailed information about these events in Baku and Ganja will be available soon on the Embassy website). As in previous years, Switzerland as a French-speaking country will also contribute to the International Week of the French Language at the beginning of April.
In the second part of the press conference, Ambassador Stalder informed journalists about economic indicators of Switzerland. He said that the general outlook is very positive with an expected 2.3% GDP growth for this year, which would be more than double of the figure in 2017 (1,0% GDP growth). At the same time, inflation and unemployment rates are at low levels and stand at 0,5% (year-on-year increase of consumer price index) and below 3% of labor force. In regard to bilateral economic relations, investments and trade, the Ambassador said that more than twenty major Swiss companies were operating in Azerbaijan, physically present in this country with either offices or production facilities. "In the previous year, we have seen a small decline in bilateral trade figures which stood, according to our statistics, roughly at 200 million CHF or US$ for the first 11 months of 2017", the Swiss envoy noted and shared his assessment about considerable potential for further boosting of bilateral trade and investments in both directions.
Finally, speaking about the close and friendly political relations between Azerbaijan and Switzerland for more than 25 years, Ambassador Stalder mentioned the World Economic Forum (WEF) which is annually held in Davos, Switzerland (23-26 January).  He pointed to the fact that during the last few years, the presidents of the two countries have regularly met for bilateral talks on the marge of the WEF and that such a high-level meeting might take place again this year. He also recalled excellent cooperation within the Bretton Woods Institutions (WB, IMF, GEF) and Switzerland's long-lasting development cooperation with Azerbaijan with accumulated investments of some 90 million US$ for technical assistance projects since the late 90s of the last century.
Ambassador Stalder concluded his remarks by highlighting Switzerland as an excellent destination for higher education with numerous bright students from Azerbaijan attending Swiss universities and hospitality schools. He also noted that events for Azerbaijani alumni from Swiss institutions are organized at his residence.
CBC TV broadcasted press conference