Welcome
Welcome message from the Chargé d'Affaires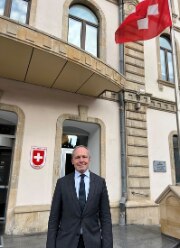 Dear Visitors, 
Welcome to the official website of the Embassy of Switzerland to the Republic of Azerbaijan and to Turkmenistan, with residence in Baku, which is in charge of the diplomatic and consular relations between Switzerland and the Republic of Azerbaijan as well as Turkmenistan. You will find here information about Switzerland, its relations with both countries in different fields, as well as news, embassy activities and services, including also an overview of the Swiss Cooperation Programme for the South Caucasus for the years 2022 until 2025.
The Embassy is here to support and promote these good relations for the benefit of all. I am delighted to represent Switzerland in this fascinating country and look forward to contribute to the good bilateral relations of Switzerland both with the Republic of Azerbaijan and Turkmenistan.
My team at the Embassy and myself sincerely value any comments and suggestions you may have to make this homepage truly a bridge of friendship and cooperation between our countries.
Thank you for your visit and interest!
With my best regards,

Alexander Hoffet

Chargé d'Affaires a.i.