Bilateral Framework Agreement with Bulgaria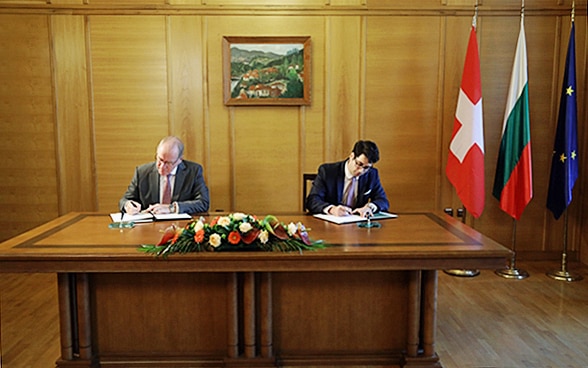 Switzerland has signed a bilateral Framework Agreement with Bulgaria in September 2022, it will enter into force after ratification by the Bulgarian Parliament. This agreement sets out the objectives of the contribution, its scope, the form and use of the assistance and the main provisions for its implementation.
The Swiss-Bulgarian Cooperation Programme takes into account Bulgaria's present needs and will provide opportunities for capacity-building and transfer of Swiss expertise in common areas of interest. With a total Swiss support of CHF 92.5 mil. the programme will complement Bulgarian efforts in managing migration and increasing public safety, protecting the climate, strengthening of social systems, and engaging the civil society.
A particular emphasis will be on reducing (youth) unemployment and promoting economic growth through dual vocational education and training (DVET), which will build on existing partnerships between Bulgarian vocational schools and the private sector. It will also introduce quality assurance mechanisms in the educational system. Another initiative aims at preventing early school drop-outs and will focus on integrating minorities and socially disadvantaged groups in the education system, while also providing integrated social and health services.
The Framework Agreement between the Swiss Federal Council and the Government of the Republic of Bulgaria on the implementation of the second Swiss contribution to selected member states of the European Union to reduce economic and social disparities within the European Union was concluded on 20 September 2022.
The Annex contains the country-specific set-up, which lays down the thematic and geographical allocations of the Contribution and the specific rules agreed between Switzerland and Bulgaria, as well as the attribution of responsibilities and tasks to the entities involved in the implementation of the Swiss-Bulgarian Cooperation Programme.