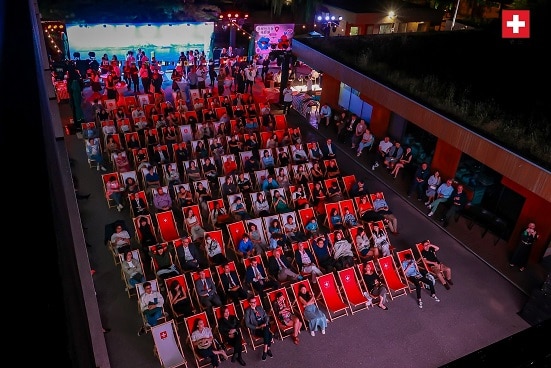 Since 2021, the Swiss Film Festival has become a flagship project of the Swiss Embassy. The first two editions of film festivals were well received by the Chinese public, with respective themes on Smart & Sustainable and Swissplained. This year, the 3rd edition of the festival is also part of the Embassy's 2023 campaign: Diversity + Me. Cultural and societal diversity is one of Switzerland's greatest strengths. Switzerland is known for its linguistic, cultural and political diversity, and in more recent years, has invested in other areas such as gender equality, disability, age, LGBTQI+ and social mobility, etc.
As a world-class player in the field of culture, Switzerland and its multiculturalism is well reflected in the seventh art: cinema. Film festivals are deeply rooted in Swiss cultural traditions. The country has a multitude of world-renowned film festivals, ranging from animated films and documentaries to auteur cinema and shorts. Apart from indoor cinemas, many Swiss cities have open-air screenings in summer and autumn, among which the most prestigious is the 8,000 seat open-air Piazza Grande in the Locarno International Film Festival, the largest open-air cinema in the world.

"I am proud to showcase to the Chinese public Switzerland's strength in diversity. A diverse and inclusive society requires two things. The possibility for all people to freely, proudly, independently live their lives, regardless of identity. And respect by society of all people, regardless of identity. Storytelling through film is a powerful tool for becoming more empathetic towards those that are different from ourselves. I look forward to discovering with you the stories of Swiss diversity at this film festival,' Swiss Ambassador Jürg Burri said in his remarks at the Grand Opening.

The three shorts in the film festival opening include 17 Anni, which tells the story of a young boy falling in love with the village priest and feeling ready to open up to someone for the first time in his life; Armat, in which the heroine tries to find out more about her family's Armenian origins and in the end discovers a harsh history; and Dazwischen, which focuses on three 12-year-old girls who question how they are perceived as girls and courageously try to find their own paths.

The three documentaries mainly focus on immigration and gender equality. Rotzloch depicts how the new life begins for four young refugee men and how they find themselves in a different culture and faced with unexpected conflicts; Becoming Giulia shows how a ballet dancer, returning from maternity leave, fights to find a new balance between the competitive world of an elite ballet company and her new family life; Garçonnières reflects an urgent need to discuss current models of masculinity through the dialogues between a female filmmaker and the men of her generation.
In the category of fictions films, the four works mainly focus on political and societal diversity, age and disability, LGBTQIA+ and marginalized groups: Tambour Battant takes a humorous look at a small Swiss village where dissenting political views, conflicting musical philosophies and emotional distress trigger the story; Rider Jack features Jack and his hated father Paul who suffers from Alzheimer's and wants to make peace with his son, and finally a trip together helps them to find each other back; La Mif is about the life of a group of teenage girls who have been placed in a residential care home with social workers where creates unexpected tensions and intimacies; In Mario, soccer player Mario is forced to choose between love and happiness and his dreams of success and stardom, a choice that might hunt him until the end of his life.

For the first time, the Swiss Film Festival will be livestreamed, making it accessible to a wider audience in China who may not be able to attend in person. After the screening at the Embassy, together with our partner La Lumière, it is planned to screen these films later this year in cinemas nationwide. Stay tuned and follow our social media for further information.