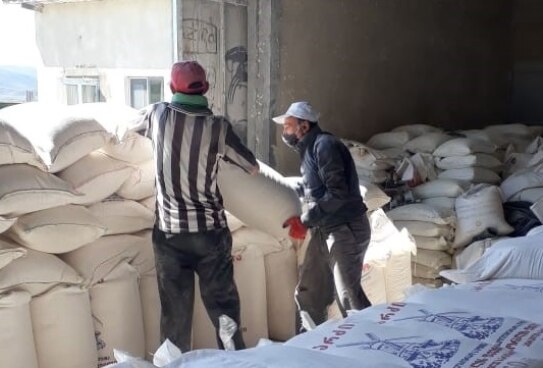 Around 80% of the population of the Marneuli municipality are engaged in agricultural activities. Quarantine arrived quite untimely (if there is a proper time for it at all!), as farmers were about to ramp up for spring's work, yield much-needed agricultural produce and deliver to the rest of Georgia. Food during pandemic proved to be as critical as healthcare and emergency services. The quarantine has triggered movement restrictions forcing producers to play along and come up with new, innovative 'modus operandi'. In a way, the pandemic challenged the businesses for flexibility and sustainability. The "Agro Trading" company, a beneficiary of the Swiss Agency for Development and Cooperation (SDC) financed Alliances Caucasus programme since 2016, managed to steer properly and keep their business afloat.
"The lockdown coupled with quarantine affected our business, obviously," said Zurab Getsadze. "We've not stopped, not even for a day. Animals also need to be fed, you know," he giggled.
"We are determined to overcome the challenges and are working in an agile way to keep supplying food to our farmers, at least those who are within reach."
Zurab is the founder of the "Agro Trading" company which produces forage and combined fodder for dairy cows, pigs and birds. Over the span of 5 years, the SDC's project rendered support to "Agro Trading" ranging from technical assistance and consultancy to a procurement of agricultural machinery, that all served the purpose to make the business sustainable with a viable network, and up to the European standard.
Before the pandemic, the company cooperated with 25 distribution centers across Georgia. Recent restrictions on movement have curbed company's access to remote markets in the West Georgia. Currently "Agro Trading" sources now locally, which means less logistical hurdles to get crops and hey from producers and deliver where they are needed.
"We kicked off our business in 2014. It was a small venture serving the local market only. With time, we've gained more knowledge and experience, and with that grew our ambition to expand the business first across Georgia, and then beyond. We were contemplating the possibility to enlarge its business in the adjourning municipalities of Armenia. We were already have identified distribution centers in the municipalities of Armenia who would be interested in cooperation. This deal would mutually benefit partners on both ends and stimulate cross-border trade between Georgian and Armenian municipalities."
With the COVID-19 looming large and imposed restrictions on border crossing, the initiative has been temporarily frozen dashing the hopes for expansion. While the future project is put on a shelf for now, the usual business is run at a moderate, but stable pace.
"The import of wheat from Russia has been uninterrupted so far. Wheat is a staple produce for Georgia, and Russia is our paramount importer. We hope that the food value chains and logistics will not be disrupted, for it will create great volatility."
The whole world is united in a fight against an invisible enemy threatening the humanity. Although the course of war is rarely predictable, this alien virus gives scientists, the governments and people a hard time figuring out what's next? Since the lockdown and then quarantine, Zurab has been living in Marneuli, having left his family in Tbilisi, to rearrange his business, to find new ways to operate, and simply to be there to see what's next.