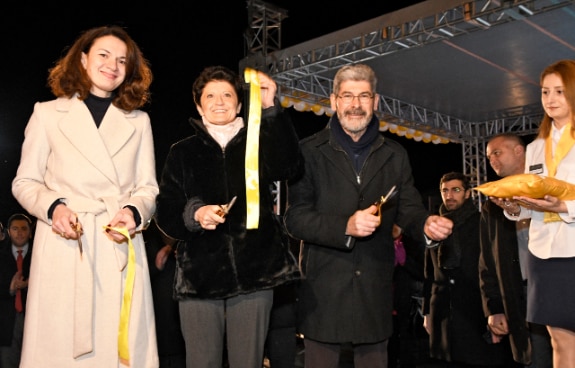 On January 13, in Chrebalo village, Ambrolauri Municipality, an official ceremony was organized to celebrate the opening of a new community center.
The Chrebalo Community Center is equipped with modern infrastructure and technology and staffed with employees recruited on a competitive basis from among the local population. Staff have been trained to provide the central government and private sector services by means of e-governance.
Local residents will have access to a modern digital library, free internet service, computers and conference call equipment. The Center will host Local Government representatives' offices' and offers a space for fostering civic engagement activities on the ground.
The Minister of Justice of Georgia, Mrs. Thea Tsulukiani, welcomed guests to the opening, as did Mr. Werner Thut, Deputy Regional Director, Swiss Agency for Development and Cooperation/Embassy of Switzerland, and Ms. Tinatin Tkeshelashvili,  Project Manager "Fostering Regional and Local Development in Georgia", UNDP Georgia.
"We are here today to celebrate the Old New year! At the same time, we are here to celebrate the opening of the 75th Community Center in Georgia. We chose Chrebalo for its location. It serves as a hub for around 3'000 locals from seven neighboring villages.  From tomorrow this fully equipped Center will start serving locals. I am particularly pleased to see happy children who will enjoy modern library, computers and free Wi-Fi at the Center," said Minister Tsulukiani.
"I  am from Switzerland - a country with no less than 2250 municipalities. Switzerland is arguably the most radically decentralized modern state. Citizen engagement at the local level plays a key role in our country," said Werner Thut. "There would be no Switzerland as it is today without strong municipalities, strong mayors and self-confident citizens."
With support from Switzerland, Austria and UNDP, the Government of Georgia approved in 2019 the High Mountain Development strategy 2019-2023, the Decentralization Strategy 2020-2025 and the respective Action Plans. Mr. Thut noted that the community center can play "a key role" when it comes to strengthening ties between the government and the local residents of the mountainous zones of Racha-Lechkhumi and Lower Svaneti.
As well as access to over 200 public and private services that will make daily life in the region easier, the community center is to offer space for groups who need somewhere they can develop an activity, discuss an idea; for people who want to start something: women, young people, and businesspersons.
"For Swiss people, such a center makes a lot of sense," Mr. Thut said. "This is why Switzerland and its Development Agency in Georgia support municipalities and local initiatives, including community centers. Because of our own experience, we believe in the importance, and also the self-responsibility, of the local level. And that mountainous areas must not be neglected by politics."
During the opening event, the musical band Kimera played for guests, a fun quiz was organized and mulled wine, tea and coffee was served. In addition, children's entertainment was provided in the form of magicians, fairy-tale characters and face painting.
Minister Tsulukiani led a tour of the Chrebalo Community Center with invited guests through the service hall, conference room and library, before a cake-cutting, fireworks display and concert closed the festive event.
The Community Center in Chrebalo is the second Center jointly supported by Switzerland and Austria within the frame of the UNDP-implemented project "Fostering Regional and Local Development in Georgia".