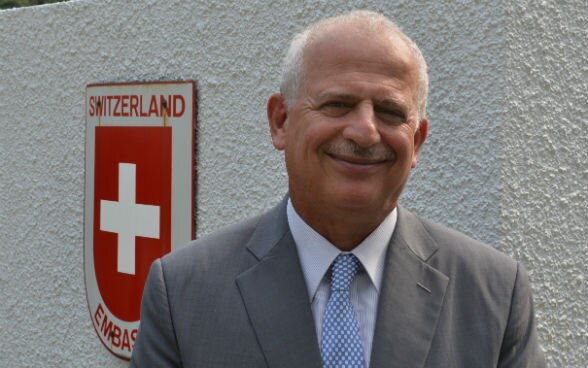 Dear Visitors,
Welcome to the website of the Embassy of Switzerland in Singapore.
Geographic distance notwithstanding, Singapore and Switzerland have developed strong political, economic, financial, scientific, educational and cultural links. Today, approximately 5'000 Swiss live in Singapore – the largest Swiss community in any Asian city – with about 400 Swiss companies present. The growing economic and financial cooperation between Switzerland and Singapore is underscored by Singapore being Switzerland's main trading partner in South-East Asia and Switzerland being the seventh largest investor in Singapore. The state visit of the President of the Swiss Confederation, Federal Councillor Johann N. Schneider-Ammann, in July 2016 was a recent highlight in our excellent bilateral relations.
Our Embassy covers all matters of international relations and represents the interests of Switzerland and the Swiss in Singapore. The diplomatic section works on topics like politics, economy, finance, science and technology, education, public affairs and culture. Our consular section provides services for all the Swiss living in Singapore as well as visas for visitors to Switzerland.
Integrated in our Embassy team is the Swiss Business Hub ASEAN. This network partner of Switzerland Global Enterprise supports Swiss exporters to Singapore and the ASEAN region. It also provides information and assistance to Singaporean companies interested in setting up businesses in Switzerland.
Our Switzerland Tourism team promotes tourism to Switzerland from Singapore and the ASEAN region. Their offices are located within our representation.
To stay on top of the news about the Embassy's activities, you are invited to subscribe to our newsletter or our events calendar and follow us on Facebook and Twitter. For further information, feel free to contact us at sin.vertretung@eda.admin.ch.
With my best wishes,
Thomas Kupfer
Ambassador of Switzerland