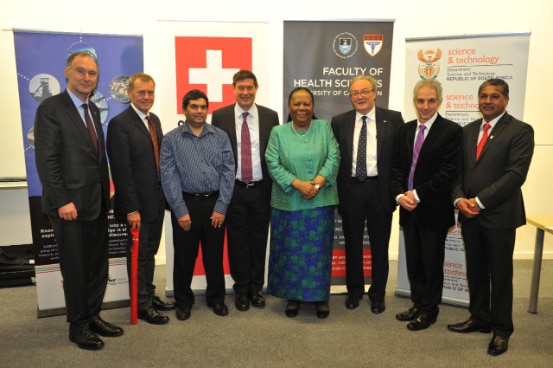 The South African Research Chairs Initiative (SARChI) establishes research professors in universities across South Africa through a grant of either R2,5 million or R1,5 million a year for a period of fifteen years. Its aim is to enable research professors to create world-class centres of research by undertaking frontier research themselves and by training a new school of researchers.

In 2015, as part of Phase II of the SSAJRP, it was decided to establish a joint Swiss-South Africa SARChI and a Swiss visiting fellowship to an established SARChI.

South African Research Chair for Mobility and the Politics of Difference

The Swiss collaboration with the SARChI for Mobility and the Politics of Difference is a visiting fellowship. Prof Didier Ruedin from the University of Neuchâtel and Prof Lauren Landau of the University of the Witwatersrand at the African Centre for Migration and Society examined the impact of migration, mobility, and diversity during 2015 and 2017.
A direct outflow of this collaboration was the Swiss sub-Saharan African Migration network with a focus to build and strengthen long-term partnerships between migration researchers in sub- Saharan Africa and Switzerland.
Swiss-South Africa Global Environmental Health Research Chair

The Swiss-South Africa Global Environmental Health Research Chair was the first to involve another country in co-founding a Research Chair under the umbrella of SARChI.
The two chairholders are:

Associate Professor Mohamed Aqiel Dalvie from the University of Cape Town (UCT), an expert researcher in environmental health focussing on pesticides, endocrine disruption and air pollution and
Associate Professor Martin Roosli from the Swiss TPH, an environmental epidemiologist and international expert on exposure assessment, aetiological research and health risk assessments of passive smoking, climate change, noise exposure and ambient air pollution
Professor Guéladio Cissé from the Swiss TPH is closely associated with the Chair. He is an expert in issues of water, sanitation and hygiene, waste management, urban agriculture, climate change, disaster risk reduction, ecosystems and ecosystem services, and air pollution.

What is novel about this collaboration is the association with the Cape Peninsula University of Technology (CPUT). It is providing the training facility for environmental health practitioners, allowing research findings and recommendations to inform the training of students.
The collaboration consists of four projects:

A cohort study on the effect of agricultural pesticides on the development and respiratory health of rural children in the Western Cape
A cohort study on the effect of ambient air pollutants on childhood asthma in the Western Cape region
An ecosystem approach on the health risks associated with chemical pollution and bio-contamination of water sources and soil in the Western Cape
A health risk assessment on the impact of climate change on ecosystems, water, chemical usages and health, including vulnerabilities assessment and adaptation challenges in the Western Cape and the rest of South Africa