Welcome note of the Ambassador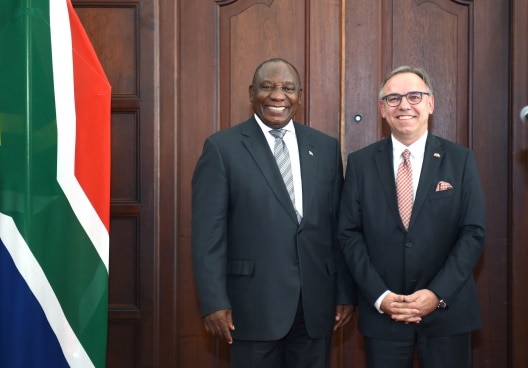 Dear Visitor,
Sawubona, Dumelang, Goeie Dag, Good Day! Welcome to the website of the Embassy of Switzerland in Pretoria.
It is a great honour and pleasure to welcome you here just a little over 25 years after I have been posted to South Africa for the first time. Back then, I was a diplomatic trainee and right in time to witness a historic moment when universal suffrage was introduced. Being now back as Ambassador closes the circle of where my career started off and at the same time gives me a wealth of opportunities to gather new experiences and to shape the relations between Switzerland and South Africa.
Shortly after my arrival in 2019, I was able to witness another historic moment when the Springboks brought their third title from the Rugby World Championship back home. Congratulations to the team and thank you for creating this moment of celebration – just like South Africa experienced it in 1995!
Our Embassy in Pretoria is responsible for the diplomatic relations between Switzerland and South Africa, Botswana, Eswatini, Lesotho, Mauritius and Namibia. This Embassy is home of the Diplomatic Division, including the Science and Technology Office and our trade and investment promotion agency Swiss Business Hub as well as the economic development cooperation office from the State Secretariat for Economy (SECO). The Swiss Import Promotion Programme SIPPO is part of our effort to contribute to the economic development by assisting South African entrepreneurs pursuing their business in Switzerland.
The Regional Consular Centre Southern Africa is equally located within the premises of the Embassy and its consular district covers six South African provinces (Free State, Gauteng, KwaZulu-Natal, Limpopo, Mpumalanga, North-West) as well as Angola, Botswana, Eswatini, Lesotho, Malawi, Mauritius, Mozambique, Namibia, Zambia and Zimbabwe.
Switzerland's network in Southern Africa is completed by the Consulate General of Switzerland in Cape Town (consular district: Eastern Cape, Northern Cape, Western Cape) as well as the Consulates of Switzerland in Durban (South Africa), Gaborone (Botswana), Lilongwe (Malawi), Port Louis (Mauritius) and Windhoek (Namibia).
We cover a wide range of issues regarding international and bilateral relations between Switzerland and the above-mentioned accredited countries. Ranging from political, to economic, science, educational, cultural, and media affairs our Embassy closely collaborates with representatives from government, private sector and civil society. To promote Swiss interests and values in the region, strengthen existing bonds, build new opportunities and support Swiss businesses is a true privilege for me and my team. We are equally dedicated to provide services for all Swiss citizens living in Southern Africa as well as for citizens from the region who want to travel to Switzerland be it for leisure, business, study or any other activity you are interested in.
Thank you for your interest in Switzerland! I recommend you to follow us on our social media channels in order to get a closer overview of our activities. 
If you have any queries, please do not hesitate to contact us at pretoria@eda.admin.ch.
With the best wishes,
Nicolas Brühl
Ambassador of Switzerland to South Africa, Botswana, Eswatini, Lesotho, Mauritius and Namibia