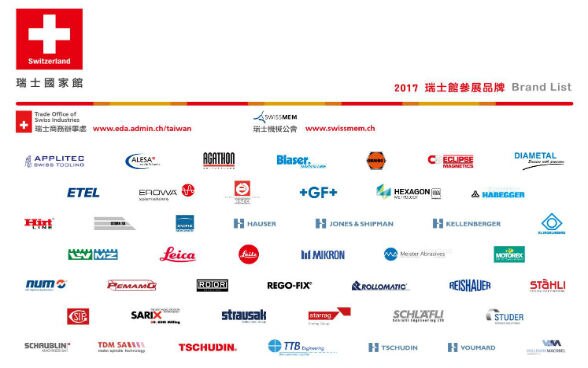 The TIMTOS 2017 will take place from 7-12 March 2017. Established in 1975, the biennial event has become one of the world's top five machine tool shows and the second largest in Asia. Organized by the Trade Office of Swiss Industries and supported by the Swiss Mechanical and Electrical Engineering Industries (Swissmem), the Swiss Pavilion at TIMTOS 2017 will show case the latest machine tools and tools technologies of 49 Swiss manufacturers through 17 representatives. A wide spectrum of technologies in the fields of grinding, milling, sharpening, turning, jig boring, electrical discharge machining, gear cutting, and forming will be displayed during the exhibition. The Swiss pavilion comprises 109 standard booths, totaling 981 sqm, making it the largest national pavilion and the largest Swiss pavilion of the last 25 years at the TIMTOS.
Exhibition: 2017 Taipei International Machine Tool Show
Location of Swiss Pavilion: 4F, Taipei Nangang Exhibition Hall
We sincerely invite you to visit Swiss Pavilion at TIMTOS 2017.
For any further information regarding Swiss Pavilion at TIMTOS 2017, please contact Mr Duncan Wang, 02 2720 1001, Duncan.wang@eda.admin.ch.