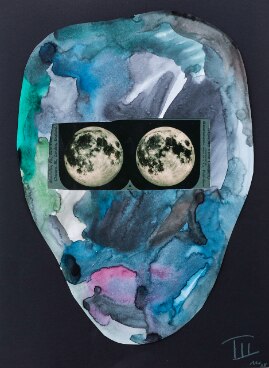 Der Mond, oft besungen, oft gemalt, ein Sehnsuchtsort, Ort magischer Kräfte. Das Mondgesicht, Licht in der Nacht, eine poetische Metapher und gleichsam sichtbare Projektion für den Wunsch, die Welt außerhalb unseres Planeten zu entdecken, zu erforschen. Nach dem "Sputnikschock" der 1950er-Jahre beginnt ein Wettlauf der beiden Großmächte Sowjetunion und USA. Wer landet als erster auf dem Mond? Der NASA gelingt schließlich 1969 dieser Coup. Neil Armstrong ist der erste Mensch auf dem Mond und hisst dort die amerikanische Flagge.
Am 21.07.1969 verfolgen Millionen Menschen weltweit die Bilder an ihren Fernsehgeräten – ein Medienereignis, das eine ganze Generation geprägt hat. 2019 jährt sich die Mondlandung nun zum 50. Mal. Die Kunsthalle Krems nimmt das zum Anlass für eine vielgesichtige Ausstellung zum Thema Mond.
Die Ausstellung Ticket to the Moon widmet sich künstlerischen Kommentaren zur Mondlandung und dem Mond als Symbol für menschliche Träume, Sehnsüchte und Spekulationen. Gezeigt werden Werke ab dem Wettlauf zum Mond in den 1950er-Jahren, direkte Reaktionen auf die Mondlandung ab 1969 sowie ganz aktuelle künstlerische Positionen auch jüngerer Künstler/innen. Die Ausstellung beginnt mit Hans Bischoffshausens Malerei Rückseite des Mondes (1960-61), setzt fort mit Robert Indianas kritischer Reflexion über die Verstrickung der NASA mit dem nationalsozialistischen Wissenschaftler Wernher von Braun in Der Mond - Die Braunschaft (1969) und Robert Rauschenbergs grafischer Reaktion auf die Mondlandung Air Pocket (Stoned Moon) (1970). Der zentrale Fokus der Ausstellung liegt auf Arbeiten aktueller Künstler/innen wie Sonja Leimer, Wendelin Pressl, Nives Widauer, Larissa Leverenz und Andreas Werner. Stilistisch und theoretisch sehr unterschiedlich setzt sich die jüngere Generation mit dem Thema Mond auseinander. Die Positionen reichen von sensiblen Bearbeitungen von NASA Fotografien bis zu ironischen Äußerungen zur Technikgläubigkeit. Zum Teil werden Werke direkt für die Ausstellung geschaffen. Die Bandbreite zeitgenössischer künstlerischer Arbeiten bietet Anlass, darüber nachzudenken, warum auch 50 Jahre nach der Mondlandung das Thema immer noch (oder wieder) so aktuell scheint.
Die künstlerischen Positionen werden um einen historischen Dokumentationsbereich erweitert. Aus der Sammlung Peter Coeln werden Fotografien von der Mondlandung und dem Weg dahin, von Astronauten und Kosmonauten gezeigt. Das Naturhistorische Museum Wien unterstützt die Ausstellung mit einem Mondmeteoriten, das Technische Museum mit dem Modell des Sputnik.
In einem partizipatorischen Bereich können Besucher/innen ihre Assoziationen und Erinnerungen zur Mondlandung einbringen. Die Besucher/innen erhalten zum Ticket auch eine Playlist mit QR-Codes zum Eintauchen in ein breites Spektrum von Musik zum Thema Mond: von Minas Tintarella di Luna (1959) über David Bowies Space Oddity (1969) bis zu Ticket to the Moon (1981) vom Electric Light Orchestra. Ebenso macht eine Liste mit Film-Trailern aus den letzten 50 Jahren Lust auf trashige bis poetische Science-Fiction-Filme von Stanely Kubricks 2001: A Space Odyssey (1968) bis Duncan Jones' Moon (2009). Das Kino im Kesselhaus zeigt in Kooperation mit der Kunsthalle Krems ein Filmprogramm zum Thema der Ausstellung.
Auch das benachbarte Karikaturmuseum Krems zeigt ab März 2019 eine Ausstellung zum Thema Mondlandung. Die Ausstellung Wettlauf zum Mond! Die fantastische Welt der Science-Fiction im Karikaturmuseum Krems (24.02.–27.10.2019) und Ticket to the Moon in der Kunsthalle Krems (14.07. –03.11.2019) ergänzen sich. Der Katalog zur Ausstellung der Kunsthalle Krems erscheint in Kooperation mit dem Karikaturmuseum Krems.
Künstler/innen der Ausstellung: Jeremy Bakker, Hans Bischoffshausen, Herbert Brandl, Aleksandra Cieślewicz, Agnes Fuchs, Robert Indiana, Dona Jalufka, Paul van Hoeydonck, Sonia Leimer, Larissa Leverenz, Mahony, Ralo Mayer, Jonathan Meese, Aleksandra Mir, Nick Oberthaler, Wendelin Pressl, Robert Rauschenberg, Thomas Riess, Nicole Six and Paul Petritsch, Sebastian Speckmann, Andreas Werner and Nives Widauer.

Eröffnung: 13. Juli 2019, 18 Uhr
Ausstellungsdauer: 14. Juli bis 3. November 2019