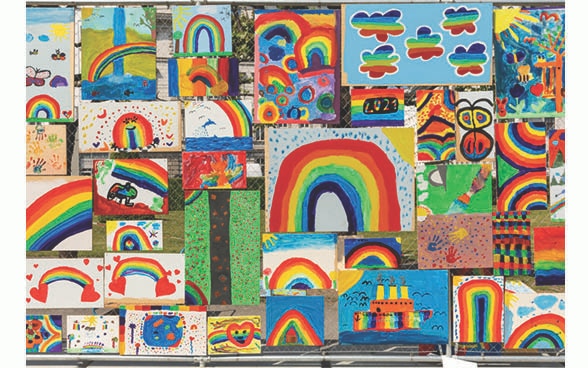 Im Werk von Ugo Rondinone ist der Regenbogen ein wiederkehrendes Motiv mit vielen Bedeutungen. Er ist nicht nur ein eindrucksvolles Naturschauspiel, sondern auch Symbol für Frieden, Gleichheit, Toleranz und für die Verbindung von Himmel und Erde.
Gemeinsam mit dem Belvedere lud der in New York lebende Schweizer Künstler Kinder im Alter von 6 bis 12 Jahren ein, Regenbogenbilder zu malen. Dieses hoffnungsfrohe Projekt wurde im Frühjahr 2021 vom Kunstvermittlungsteam des Belvedere in Kooperation mit Volksschulen in ganz Österreich durchgeführt.
Dabei entsteht das partizipative Werk «your age and my age and the age of the rainbow», bestehend aus 1.085 Regenbogen-Tafeln. Die 70 Meter lange Installation ist vom 13. Juni bis 1. November 2021 im Barockgarten zwischen Belvedere und Belvedere 21 zu sehen.
Die monumentale Arbeit geht Ugo Rondinones erster musealer Einzelausstellung in Österreich voraus, die das Belvedere 21 unter dem Titel «Ugo Rondinone. Akt in der Landschaft» ab 25. November 2021 zeigt.
Ugo Rondinone ist ein international renommierter Schweizer Künstler. Seit über zwanzig Jahren überschreitet er die Grenzen zwischen Medien und Disziplinen. Seine Arbeiten basieren oft auf Themen und Motiven aus dem Alltag, denen er eine poetische Dimension verleiht. Rondinone schafft suggestive Stimmungen, die das Lebensgefühl unserer Zeit einfangen.

Ausstellungsdauer:
13. Juni bis 1. November 2021