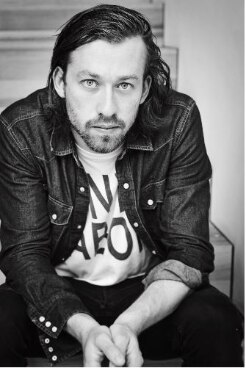 Geboren 1984 in Basel. Seine Familie zieht zunächst nach Cambridge/England, 1996 nach Melbourne/Australien. Stone studiert am Victoria College of the Arts in Melbourne und arbeitet in den darauffolgenden Jahren als Regisseur, Autor und Schauspieler in Australien. 2007 gründet er die Theatergruppe «The Hayloft Project», für die er klassische Dramentexte wie Tschechows «Platonow», Senecas «Thyestes», Wedekinds «Frühlings Erwachen» oder Ibsens «Klein Eyolf» adaptiert. 2011 wird er Hausregisseur am Belvoir Theatre, Sydney. Seine Überschreibung von Ibsens «The Wild Duck» wird zum Ibsen-Festival in Oslo, zu den Wiener Festwochen und zum Holland Festival Amsterdam eingeladen.
«Die Orestie» nach Aischylos am Theater Oberhausen 2014 ist seine erste Arbeit im deutschsprachigen Raum. Im selben Jahr zeigen das Festival «Theater der Welt» in Mannheim, das Holland Festival und das Theater Nanterre- Amandiers Stones «Thyestes». Er inszeniert bei der Toneelgroep Amsterdam «Medea» nach Euripides. Es folgen dort die Bühnenadaption von Woody Allens «Husbands and Wives» (2016) sowie «Ibsen Huis» nach Motiven von Ibsen (2017). 2015 dreht er den Kinofilm «The Daughter», der erneut auf Ibsens «Die Wildente» basiert und auf den Filmfestivals in Venedig, Toronto, London und Stockholm präsentiert wird.
In den Spielzeiten 2015/2016 und 2016/2017 ist Simon Stone Hausregisseur am Theater Basel. Seine Bearbeitung von Ibsens «John Gabriel Borkman» (Koproduktion von Theater Basel, Burgtheater Wien und Wiener Festwochen) erhält den Nestroy-Theaterpreis in der Kategorie «Beste Regie», wird von der Kritikerumfrage der Zeitschrift «Theater heute» zur «Inszenierung des Jahres» gewählt und zum Berliner Theatertreffen 2016 eingeladen. Seine Basler Inszenierung von «Engel in Amerika» wird 2016 mit dem Nestroy-Theaterpreis für die «Beste deutschsprachige Aufführung» ausgezeichnet. Mit seiner Überschreibung von Federico García Lorcas «Yerma» gibt er 2016 am Young Vic Theatre in London sein Regiedebüt in Grossbritannien.
Am Theater Basel stellt sich Simon Stone in der Saison 2016/2017 mit Korngolds «Die tote Stadt» erstmals als Opernregisseur vor. In derselben Spielzeit adaptiert er dort Tschechows «Drei Schwestern», wird damit erneut zum Theatertreffen 2017 eingeladen und erhält dafür von «Theater heute» die Auszeichnung «Stück des Jahres». 2017 zeichnet er bei den Salzburger Festspielen für die Regie von Reimanns Oper «Lear» verantwortlich. In der Spielzeit 2017/2018 überträgt er seine Basler Inszenierung von «Drei Schwestern» an das Odéon – Théâtre de l'Europe in Paris.
Zudem entwickelte er «Hotel Strindberg» nach August Strindberg – eine Koproduktion des Burgtheater Wien und des Theater Basel, die mit zwei Nestroy-Theaterpreisen ausgezeichnet wurde. In der Spielzeit 2018/2019 entstand am Berliner Ensemble «Eine griechische Trilogie», und am Burgtheater Wien realisierte er die deutschsprachige Erstaufführung seiner «Medea»-Adaption. Inspiriert von der wahren Geschichte einer amerikanischen Ärztin, rückt Simon Stone in seiner Fassung die existenziellen Fragen von Euripides' Tragödie in den Kontext der zeitgenössischen Realität.