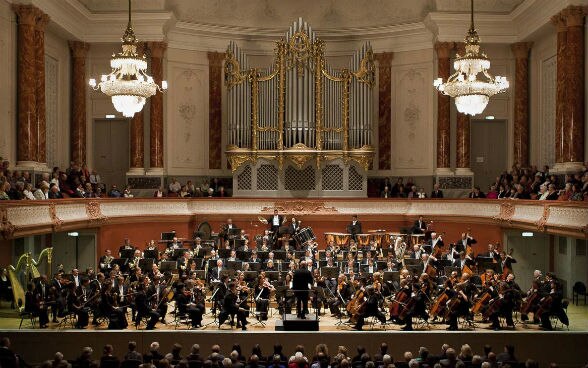 Chinese galleries have been going to Basel for the annual Art Basel Exhibition in recent years and Chinese audience has gradually associated Basel with contemporary art in their minds. But that's far from the whole picture of this Swiss German city in the north of Switzerland! This year the Basel Symphony Orchestra is coming in Beijing and Shanghai for its third tour to China after a first visit in 2004 and a tour in 2010. A rare chance to attend a concert of this 139-year-old orchestra in China!
The symphony orchestra is one of the oldest and most important in Switzerland. Founded in 1876, it has been conducted by big names such as Mario Venzago, Valery Gergiev or Pierre Boulez, as well as Wilhelm Furtwängler, Gustav Mahler, Felix Weingartner or Johannes Brahms.
It is also one of the professional orchestras with the lowest average age - youthful, stylistic and flexible are the important characteristics of the Orchestra. Dennis Russell Davies, the renowned American conductor and pianist, has been the principal conductor since 2009. The Orchestra continuously builds up its strengths and repertoire under his leadership. Alongside the German classical tradition, the strength of the orchestra also lies in playing modern classics. The programme of this year's tour is exactly the combination of such selections.
Ticket information: Beijing; Shanghai.
Concert program:
W.A. Mozart: Symphony No. 32, G major, K 318
L.v. Beethoven: Piano Concerto No. 3 in C minor, Op. 37
Chen Yi: Ge Xu Antiphony
I.F. Strawinsky: The Firebird (ballet suite)
Dennis Russell Davies, conductor