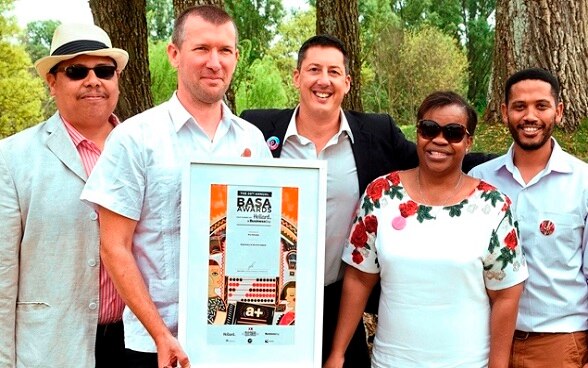 The prestigious 2017 awards supported by the business community in South Africa, honour exceptional projects that demonstrate positive and sustainable impact of dynamic business and arts partnerships. Winners in this year's award categories provided inspiring and compelling insights into the role that the arts play in connecting people and enabling transformation – and the different ways that business can support the arts.
The SDC Regional Arts and Culture Programme for Southern Africa with Pro Helvetia won the Diplomacy in the Arts Award recognising the exceptional work being done across the region in promoting artistic and cultural exchange, while raising awareness of Swiss contemporary art.
Working with underfunded individual artists, regional art organizations and communities from Mozambique, Zimbabwe, South Africa, the Democratic Republic of Congo, Namibia and Tanzania among others has allowed the partnership between SDC and Pro Helvetia to unlock South-to-South cooperation among artists ever since the programme started in 1998.
Since then, the programme has also managed to strengthen strategic partnerships with network based organisations in the region and has successfully awarded more than one thousand micro-grants to individual artists and organisations supporting the mobility of a mix of artists in Southern Africa. In addition, the promotion of trans-border collaborations has facilitated the circulation of new artwork across the region, in the process increasing the incomes and experience of the artists concerned.
On receiving the award, Head of Pro Helvetia Johannesburg, Joseph Gaylard said: "It is a great honour for Pro Helvetia to receive this award…, and I would like to thank a passionate, professional and tightly knit team for their unstinting efforts".
"In receiving this award we would like to acknowledge the central importance of our partnership with the regional office of the Swiss Agency for Development and Cooperation (SDC) in Harare in being able to position our work meaningfully and thoughtfully in Southern Africa, and the complementary work of the diplomatic missions across the region".
"Finance from the SDC has enabled us to make a modest but sustained contribution during the course of nearly two decades to the development of a regional creative fabric, through supporting collaborations among Southern African artists and organisations, and the mobility of artists and their work across national borders within the region".
In presenting the award, the Chief Executive Officer of the Business and Arts South Africa, Michelle Constant said "Pro Helvetia is being honoured with this Special Award because it encourages initiatives that forge connections between the world of the arts and other fields of inquiry and work.  It also supports exchanges around critical issues and questions facing artists and the arts field within the differently demanding and complex realities of Southern Africa and Switzerland".
For more details on the SDC Regional Arts and Culture Programme in Southern Africa please visit: