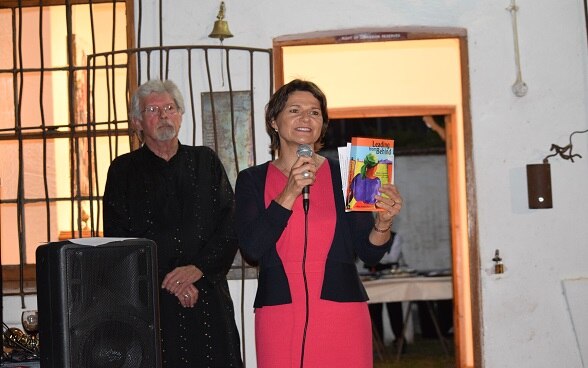 The book documents rural women's struggles in developing themselves and their communities during the colonial times in Zimbabwe.
According to Mrs. Fadzai Mukonoweshuro, who was the Guest Speaker at the launch, the book is a powerful representation of the role that women both black and white played during the colonial period and highlight their achievements and activities.
She noted that the history of Zimbabwe is usually silent on the contribution of women to the liberation and development of the country despite the fact that their narrative is important.
"The book is provocative and yet relevant to the current efforts of developing women in Zimbabwe and provides the reader with an important perspective that as development specialists and ordinary Zimbabweans we were not privy to," said Mukonoweshuro.
During the same occasion, the Ambassador of Switzerland, H.E Mrs. Ruth Huber stressed the importance of Maia Chenaux-Repond's book and why the Embassy supported the project.
"There are several very compelling reasons why I thought that the Embassy of Switzerland should really make a contribution to make this book possible. On one hand, to document an important aspect and time of Zimbabwe's history and on the other, to document the contribution of a Swiss citizen who has dedicated all her adult life to the development of Zimbabwe!" said Mrs. Huber.
The Ambassador also thanked all the Swiss citizens in Zimbabwe and the contribution they continue to make to the country. Special mention also went to Therese Garood, a Swiss citizen whose beautiful painting was used as cover to the book.
«Leading from Behind» tells the story of Maia Chenaux-Repond and her work as the Provincial Community Development Officer (Women) for Mashonaland South in Rhodesia (Zimbabwe) in the Ministry of Internal Affairs in the 1970s.
There are no records in the National Archives of Zimbabwe about the Community Development Section (Women), even though it was active in all the provinces. In the absence of other documentary sources, and all other provincial officers long having emigrated or died, this account of her work fills a significant gap in the pre-independence history of Zimbabwe.
The crucial focus of the Women's Section on improving the lives and skills of women in the rural areas became progressively more difficult when a civil war intensified from the early 1970 as rural people – and the development workers themselves, were moved into 'Protected Villages', and as the Ministry became increasingly militarized.
Through support from the Embassy of Switzerland, the book will also be distributed in libraries across Zimbabwe and some selected University institutes in Switzerland, so that students, researchers and whoever is interested can benefit of Maia Chenaux-Repond' s experience.