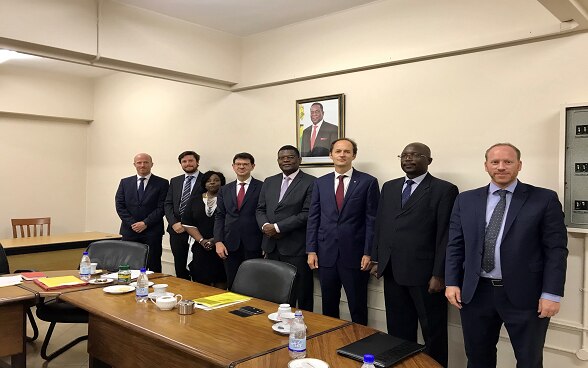 The high level delegation from Geneva was accompanied by the Director of the Secretariat of the Convention on Cluster Munitions, Ms. Sheila Mweemba, the Ambassador of Switzerland to Zimbabwe, H.E. Mr. Niculin Jäger and representatives of the Germany and UK Embassies in Zimbabwe.
The high level meeting discussed the Second Review Conference of the Convention on Cluster Munitions which is scheduled to take place in November 2020, under the presidency of Switzerland. The meeting also discussed ways of non-members to accede to the Convention. Switzerland assumed the presidency of the Convention in September 2019. The Review Conference is held every five years to assess the effectiveness of the Convention and progress in implementation.
The Convention on Cluster Munitions is a humanitarian imperative-driven legal instrument which prohibits all use, production, transfer and stockpiling of cluster munitions. In addition, the Convention establishes a framework for co-operation and assistance to ensure adequate assistance to survivors and their communities, clearance of contaminated areas, risk reduction education and destruction of stockpiles.
**END**
About the Convention on Cluster Munitions
The Convention on Cluster Munitions is the international treaty of more than 100 States that addresses the humanitarian consequences and unacceptable harm caused to civilians by cluster munitions, through a categorical prohibition and a framework for action. The Convention was adopted on 30 May 2008 in Dublin, Ireland and signed on 3-4 December 2008 in Oslo, Norway, the Convention on Cluster Munitions entered into force on 1 August 2010. To date 121 states have committed to the goals of the Convention, of which 109 have become States Parties and 13 are Signatories. For more details on this please visit: https://www.clusterconvention.org/