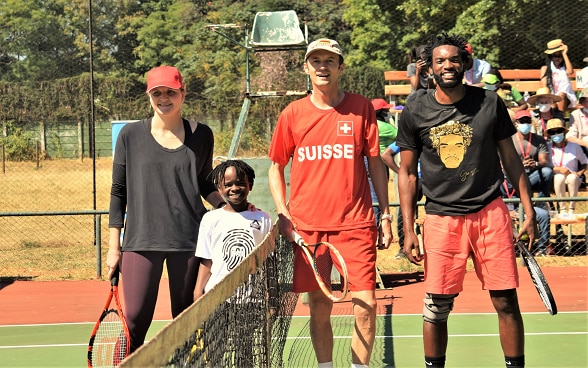 The tennis tournament provided an opportunity for high-level representatives including senior government officials, foreign diplomats, church leaders, business executives and civic leaders among others to interact in a relaxed and fun social environment.
The "Zwiss Open" also provided the platform for the official launch of Total Greatness International (TGI), a national non-profit organisation led by one of Zimbabwe's eminent international tennis players and sports ambassadors, Takanyi Garanganga, with support from the Embassy of Switzerland.

The TGI initiative plans to increase sporting opportunities and nurture young aspiring Zimbabwean tennis players, including those coming from underprivileged backgrounds.

TGI will also revive the sport in all parts of Zimbabwe, working closely with the Zimbabwean Tennis Federation to organize regular nationwide junior tennis tournaments and competitions. The ultimate goal will be to set up a national High Performance Centre.

Switzerland Ambassador to Zimbabwe, Mr. Niculin Jäger described the event as a huge success in the history of bilateral relations between Switzerland and Zimbabwe.

"Sport is without borders. Sport has played, and continues to play a significant role in diplomacy, state-to-state relations and in promoting peace and the values of tolerance. Sport is also about friendship. Zimbabwe and Switzerland continue to enjoy cordial bilateral relations and the "Zwiss Open" tournament is also about celebrating 42 years of our great friendship," Ambassador Jäger said.

The backing for tennis in Zimbabwe by the Embassy of Switzerland was applauded by Zimbabwe Minister of Youth, Sports, Arts and Recreation, Kirsty Coventry who was guest of honour at the event.

"My ministry shares the same sentiment with the Embassy of Switzerland and Total Greatness Initiative, that investing in tennis as a professional and influential sport provides a good opportunity to directly impact the lives of young people and help build sustainable programmes to which young Zimbabweans can aspire.

I am reliably informed that the Swiss support to TGI aims to help young people from disadvantaged backgrounds, from the 10 provinces of Zimbabwe, to become professional tennis players and aspire for a better future.

Such programmes will feed into our National Development Strategy 1 projects and will have a positive outcome," Minister Coventry said.

Adding to the excitement of the day, prizes autographed by the Swiss tennis icon Roger Federer were won during the tournament.