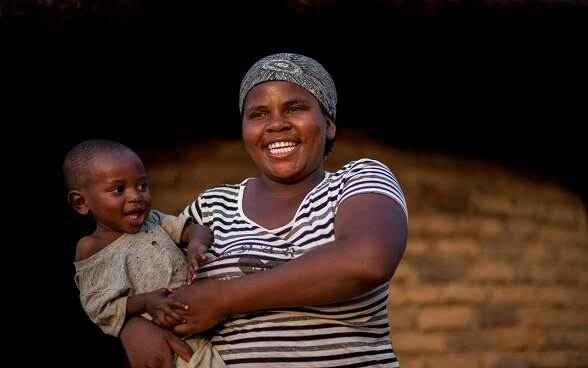 To mark the 60th anniversary of Switzerland's international cooperation, the SDC is looking back on its achievements, reviewing current challenges such as COVID-19 and climate change, and casting an eye on the future.
The SDC has continually adapted its activities to meet new challenges over its 60-year history – which is why it remains a credible actor for international cooperation today.

The global population has more than doubled in the past 60 years, growing from 3.07 to 7.87 billion people.

Globalisation has led to a dramatic increase in the interconnectedness of the economy, politics, culture and communication. Transformations are currently taking place as part of the digital revolution which will shape societies and cultures around the world to an unprecedented degree.

This means that even after 60 years, Switzerland's international cooperation is still confronted with complex challenges despite the tremendous progress it has achieved.

Switzerland's international cooperation continues to play a vital role in combating these developments, and it is crucial that it remain agile, efficient and effective. This was illustrated during the COVID-19 pandemic, when Switzerland's flexible international cooperation strategy allowed it to respond in a rapid and targeted manner to the needs of people around the world.

Leveraging trends and partnerships for greater impact

Swiss international cooperation not only adapts but also follows current trends in a forward-looking way to increase its efficiency and impact. 

"We've adapted international cooperation to trends and have developed new methods for combating poverty. By focusing on the four priorities of creating jobs, combating climate change, reducing irregular migration and promoting good governance, we aim to contribute towards increasing security and prosperity in developing countries – and therefore also at home," said Federal Councillor Ignazio Cassis, highlighting the importance of international cooperation today.

New technologies play a key role in this respect. For example, universal access to online information and mobile finance and health apps also have a positive effect on the political, social and economic development of countries.

Science and private sector

The SDC's deployment of new technologies in international cooperation relies on collaborations with academia and the private sector. The private sector's innovation potential is key to the achievement of the Sustainable Development Goals of the 2030 Agenda.
A good example of this kind of partnership is the collaboration with 'Medicines for Malaria Venture' (MMV) from Geneva. The combination of MMV's medical expertise and the SDC's specialist knowledge that has existed since 1999 enabled research to be carried out to produce an affordable malaria drug which has been used over 250 million times in more than 50 countries to date.

The local private sector also plays a vitally important role as the economic backbone of industrial and developing nations, with job creation being a key focus. In Kosovo, as in other places, the public sector has little leeway to directly create new private-sector jobs. This is why the SDC – in cooperation with Kosovan SMEs – is supporting a project concerning food and tourism. This aims to improve agricultural productivity and to raise Kosovo's profile as a destination for summer and winter tourism. The further development of these sectors would automatically create more jobs and fresh prospects for the local population.

60 years of self-help assistance

In the 1960s, people still believed that the problem of world poverty could be solved within a few years! Their hopes were founded on the fact that Europe was able to rebuild relatively rapidly after the war. Disenchantment soon set in, however, and the expectations of that founding generation of development aid remained unfulfilled. In fact, the SDC's areas of activity have actually become more complex over the decades.
The SDC's history is closely intertwined with global events, and it is crucial that it remain adaptable. Swiss development cooperation – known as technical assistance at the time – got off the ground immediately after the end of the Second World War when much of Europe lay in ruins. Switzerland also played its part in the reconstruction, but it was not until the 1950s that it extended its activities beyond European borders.

Swiss development cooperation first took shape when the SDC's predecessor organisation, the Technical Cooperation Service, was incorporated into the Federal Political Department (now the FDFA) and the first Delegate for Technical Cooperation was appointed by the Federal Council on 17 March 1961. It has subsequently established itself under the motto 'helping others to help themselves' – a motto which continues to apply today.

Adaptation to trends

Just like in fashion, there are also trends in development cooperation. The SDC's activities have been shaped by a number of these over the decades, including the debt crisis in developing nations after the global depression and oil price shock in the 1970s, the environmental movement and emergence of the concept of sustainability in the 1980s, and the independence of former Soviet states after the fall of the Berlin Wall. 
A much sought-after actor worldwide

International cooperation is part of Switzerland's humanitarian tradition. In the past, it has stood out by constantly adapting to historical, civil society and political conditions in various contexts. This explains why the knowledge and experience Switzerland has acquired in the field of international cooperation over the past 60 years remains in great demand today. It is also this expertise that makes Switzerland a credible actor to alleviate need and poverty worldwide, improve respect for human rights, promote democracy and protect the environment.

In order for the SDC to continue achieving its goals in future, Director General Patricia Danzi wants to ensure it continues adapting to international political realities, becomes even more interconnected, measures the impact of its work more effectively, and involves its partners in developing countries even more closely.

Swiss Development Cooperation in Southern Africa

Switzerland's support to the region of South­ern Africa covers the 16 member countries of the Southern African Development Community (SADC). It focuses on food security with climate change adaptation dimensions and HIV/AIDS in the whole region. For the implementation of its projects, Switzerland works with regional part­ners with capacities to implement at national and regional levels in order to foster regional dynamics and ownership and to promote the sustainable development of these countries.

Swiss support to the region started in 1994 in South Africa and has since developed into a regional pro­gramme covering all 16 SADC Member States. Inte­grated in the Embassy in Harare, the Swiss Coopera­tion Office works closely with other embassies in the region i.e. Pretoria, Nairobi, Maputo and Dar es Salam. In line with SADC priorities, the areas of intervention of Switzerland's 2018-2022 de­velopment strategy are food security and HIV/AIDS with a specific focus on youth employment. In Zimbabwe, special activities in the areas of water supplies and sanitation, as well as the protection of vulnerable groups have been developed in the wake of the humanitarian crisis that has been unfolding since 2008.