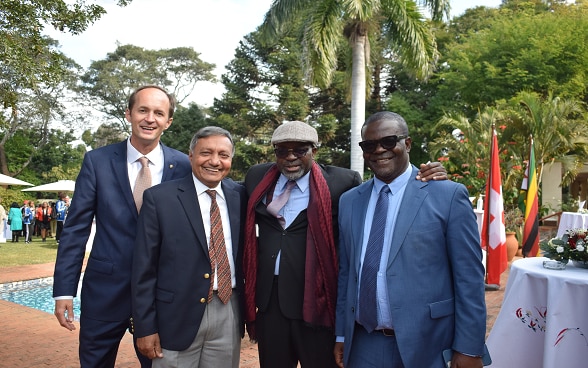 Ndinokugashirai nhasi pazuva rakanakisa chaizvo apo taungana pamwe chete seshamwari dzeSwitzerland neZimbabwe. (I welcome you on this beautiful day to be together and spending it among friends of Switzerland and Zimbabwe).
Today marks an incredible four years since myself and my family arrived in Zimbabwe in June 2018. I am very happy to see all you today who have accompanied me and have been part of this magnificent journey. The last years have seen a steady and constant deepening of relations between our two countries. Since the start of the Second Republic and the first visit to Europe by His Excellency, President Emmerson Mnangagwa made in January 2018 to Switzerland, our bilateral relations have blossomed. It has indeed been a journey of enhancing the relations between our two countries
As we look into the future, looking for new approaches and agreements, on the one hand and on the other hand finding solutions to the challenges from the past, our bilateral relations with Zimbabwe have always remained positive and cooperative based on mutual respect and a long-term committment. This cordial environment has in turn provided a good opportunity for our two countries to deal with a variety of topics: In this regard, my Embassy has been invited to work with the Museum of African Liberation to ensure that the history of Zimbabwe and the African continent are preserved. We have also been working with the Chiefs Council to ensure national healing complex and dealing with Past. In addition, we have also been working on elections like the successful Peace pledge in 2018 to which all parties committed for a peaceful campaigning which was one of my first engagements with the late Kofi Annan. In the last weeks we have been collaborating with the African Union and the Zimbabwe electoral commission on youth participation in elections.

My country has prospered as a haven for businesses far beyond what might be expected of a small, landlocked country with no natural resources besides water and ice. This is because of the openness to the world that attracts international talent. Switzerland has always been an entrepreneurial hotbed…the Swiss economy has shown great resistance thanks to a diversified economy, strong exports and strong domestic markets.

In this context, I am very proud that today also marks the first year of the establishment of the Swiss-Zimbabwe Business Chamber. The existence of the Chamber is evidence of the trust that Swiss companies have in the future of Zimbabwe. I invite you to see some of their products at the Swiss Business Village – next to the entrance

We stand by Zimbabwe and we want to be part of the ongoing development and support the agenda of Zimbabwe as it improves. We want to support these processes and work together to implement a consistent legal framework from taxation to investments in agriculture and industry. We want Zimbabwe to become a destination for business and foreign investments. We also want to see this happening for the benefit of the people from all the four corners of the country. From Kariba to Beitbridge, from Sango Border Post in the southern parts to Victoria Falls in the West… from Chirundu in the North to Forbes in the East. This is what we understand by (re-)engagement.

This is why we are present in the four corners of the country demining in the Sengwe Corridor at the border with Mozambique – creating a safe passage for local communities to engage in safe agricultural activities and supporting greater opportunities for transnational tourism while reducing human-wildlife conflict…while Swiss companies here present are also investing in the tourism sector in Victoria Falls. In the north in Mana Pools and Matusadonha National Parks we are working with Zimparks discussing on how to make conservation financially sustainable and attractive for the people living close by. In Masvingo we are implementing a climate-smart agriculture resilience programme. Not to forgetting the capital and the second capital. In Bulawayo we are also engaged in an urban resilience programme working with the urban poor and the arts and culture with young people while in Harare we are working with a number of organisations including governments departments, independent institutions and civic organisations among others.

But as you know, many questions from climate change to regional integration and business have to been seen in a context with the neighbouring countries. I want to take this opportunity to express my deepest gratitude to all of you and to the Honorary Consular from Lilongwe, Sylvia Giannakis and Marco Comana for Lusaka who are representing Swiss interests in these two countries and helping me from Harare. Thank you dear colleagues.

Ladies and Gentlemen!

42 years of bilateral relations also marks the beginning of a new bilateral cooperation programme between Switzerland and Zimbabwe that my team has developed. From January 2023 we will see Zimbabwe becoming a priority country for Switzerland's cooperation and development strategy working in the domains of food security, health, social protection, climate change and governance.

As a result, our development agency – the Swiss Agency for Development and Cooperation (SDC) going forward will focus on working closely with the youth to tackle the challenges they face on a daily basis – including creating employment opportunities, HIV and civic participation which are key for the future development of Zimbabwe.

Switzerland continues to be a dependable partner to Zimbabwe's democratisation and development agenda and we continue to support initiatives such as devolution that aims to bring governance closer to the people and enhance their participation in political processes. Checks and balances contribute to better and more efficient governance.

Zimbabwe is a country of huge talent and higher education and I am very happy to have had a possibility to get a feel of the potential that it possess – this is an important asset going into the future.

I would like to take this opportunity to thank our Zimbabwean friends who have been always supporting the development of the Swiss-Zimbabwe friendship and cooperative relations and my fellow Swiss citizens who are the symbol of it every day.

Ladies and Gentlemen, Liebe Mitbürger und Mitbürgerinnen, chers citoyens

Switzerland is known for its role as convener, as facilitator and host a lot of international and diplomatic organisations in Geneva, Bern and Basel.

But it is also a host to an array of international sports federations ranging from the International Olympic Committee, international football associations, e-sports etc. This translates also into local initiatives – I would like to mention two initiatives that we have been working with in.
The first initiative is the tennis one led by Zimbabwe's ATP player Takanyi Garanganga who is taking tennis to children at grassroots levels in all the 10 provinces of Zimbabwe… and the Zimbabwe Handball Federation whose leadership here present I have been working closely with supported by a Swiss coach, Rolf Haussener – who is spending time and money for developing the talents of young boys and girls in the country. Today we are collecting some donations for these initiatives through an auction of Swiss knives etc. or by making a bid as was initially announced by the Director of Ceremonies at the beginning. I urge you to support these unique initiatives. Today you have the chance to contribute and get a unique present for your family, kids or yourselves.
Ladies and Gentlemen!

Indeed as the Shona saying "chara chimwe hachitswanyi inda" (One man cannot do it alone) all that I have mentioned could not have been achieved without help and the support of my team.

Ladies and Gentlemen!

I came to Zimbabwe as a stranger, yet I am leaving as a friend. Thanks to all of you. The seed we planted today together will definitely blossom into a lofty tree. Ndinotenda nerudo rwenyu (I am thankful for your love).

May I propose a toast, to the people of Zimbabwe, the people of Switzerland, to its Presidents H.E Emmerson Mnangagwa and President of the Federal Council, Ignazio Cassis, Cheers!

Thank you! Ndatenda! Siyabonga