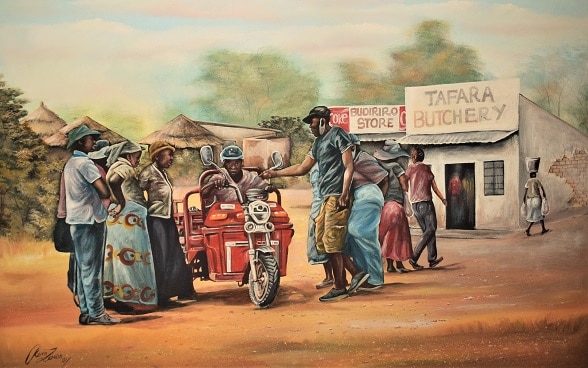 Supporting the International Women's Day 2023 #AcceleratingEquality theme, the Gallery is hosting a unique exhibition to honour women and the challenges they face as a result of mobility.
The exhibition is a new collaborative art exhibit called Women, Power and Mobility in Zimbabwe supported by a tagline - "Putting women in the driver's seat".

The Gallery worked with seven local artists both experienced and novice to show how mobility was a challenge for women taking their inspiration from an innovative project that is being implemented in rural Zimbabwe by Mobility for Africa.

The project is providing low-cost quality renewable electric tricycles, bicycles and small scale vehicles to rural women in the country.

The artists travelled to the project site in Wedza, Mashonaland Province of Zimbabwe and after that they submitted various creative pieces of work, including some in abstract formats.

Some of the artwork is very provocative in asking questions such as, what does gender inequality look like for a rural woman travelling long distances with children on their backs? How can mobility improve livelihoods outcomes for women in Zimbabwe among other issues?

During the opening ceremony of the exhibition on 10 March, with was partly supported by Switzerland and other donors, the Ambassador of Switzerland, Mr. Stéphane Rey highlighted the important part that artists play in reflecting the problems faced by society including that of mobility.

"The challenge of mobility no doubt affects women the most, particularly those who are poor. And it is proven that as transport options improve so does their income. However, despite the significance of mobility in changing women lives, the situation has not improved in many parts of the world – including here. Women continue to walk long distances to undertake household chores and in many cases this is literary a long balancing act," said Ambassador Rey. 

Ambassador Rey, urged artists to continue unlocking women's doors to success and unblock avenues of opportunity.
"I further urge everyone – all women and men of goodwill – to dare the difference and bet on women. I promise you this: you will not be disappointed. For when women shine like the sun, their radiance will be forever undimmed," said the Ambassador.

The curator and Nhaka Gallery, Rudo Chakanyuka noted that honouring rural women challenges stereotypes about women in rural through rethinking transport.

"It's not just about getting from point A to point B, it's about freedom, breaking barriers, it's bringing people together... a process that highlights challenges (associated with transport and mobility), while at the same time celebrating the human and woman spirit," noted Rudo.

The art pieces displayed at the exhibition will be available for purchase via auction at the end of April.

Nhaka Gallery operates under the Women's Gallery Arts and Research Trust. It aims to build a creative, safe, dynamic space for nurturing Zimbabwe's next generation of artists.

Helen Lieros and Derek Huggins, who founded the Delta Gallery in 1975, helped establish the country on the global art scene as they helped young artists learn their craft, get international exposure, and launch their careers. Now in honour of their legacy, Nhaka Gallery aims to inspire a new generation to follow the country's rich artistic tradition.