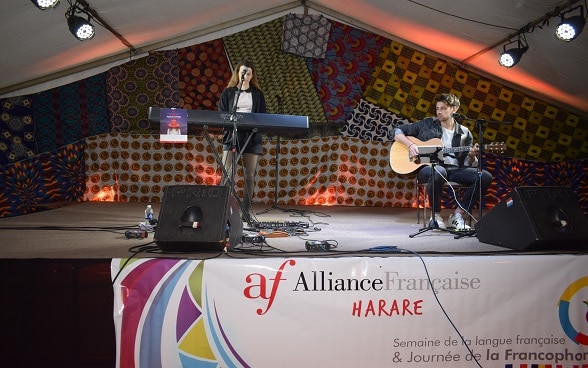 Amélie and Igor belted various songs in French, easily finding a common denominator with the local crowd that responded with unrelenting dancing and sing-alongs. The magic that unfolded on the night was seen in the special atmosphere that saw the audience in attendance calling for more when the show ended.
While the music compelled dancing among those in attendance – the incredible talent of Igor on the strings and Amélie's smooth voice revealed the power of language in bringing different cultures together. The Swiss musicians were not only organic but also unpredictable – romping slow tunes that occasionally blended low and high tempos. They were extraordinarily potent.

The tour in Zimbabwe came on the musicians' last leg of their marathon Francophonie 2023 tour of Southern Africa having started their explorative journey in South Africa where they played in Cape Town and Pretoria and then travelled to Maputo Mozambique before landing in Zimbabwe.

Without doubt, being weary of their foray in the region, they went all out to imprint an unforgettable impression on the audience who insisted their return in the future.

The two also managed to intermingle with students studying music in Harare at the Music Crossroads Academy and the Zimbabwe College of Music. The sessions with students reverberated the power of music in bring people together, while at the same time providing hope to the aspiring musicians that they will make it on the international scene.