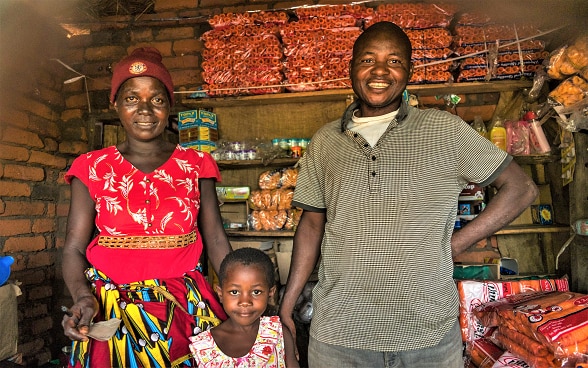 The funding is made in the form of first loss tranche, with a total of CHF9 million specifically earmarked to support projects in Zambia and Zimbabwe through UNCDF, CHF1 million allocated to the BUILDER Technical Assistance Facility, as well as CHF 5 million directly invested into the global BUILD Fund. The investments are made between 2022 and 2024.
The BUILD Fund is a partnership between UNCDF and Bamboo Capital Partners. It is an innovative blended impact finance vehicle designed to support business opportunities that contribute to the UN's Sustainable Development Goals (SDGs) in lower-income countries primarily in Least Developed Countries (LDCs). The BUILDER Technical Assistance Facility is managed by UNCDF.

The SDC have a long history of working in Southern Africa and this funding has been specifically earmarked for projects in Zambia and Zimbabwe that fall under the Southern African Development Community (SADC). Swiss support in the region started in 1994 in South Africa and then developed into a regional programme covering several SADC Member States. Starting 2023, the programme will focus on Zimbabwe and Zambia only. In Zimbabwe, activities in the areas of food security and sexual and reproductive health and rights, with a special focus on women and youth have been developed in the wake of the humanitarian crisis that has been unfolding since 2008.

SDC's investment into the BUILD Fund will be used to catalyze positive impact on the ground and contribute to make progress towards the Sustainable Development Goals, especially in the two countries. Investment focus will include promoting gender equality.

The BUILD Fund is also supported by the Government of Luxembourg, Global Affairs Canada (GAC), the Norwegian Agency for Development Cooperation (Norad), the Nordic Development Fund (NDF), the Swedish International Development Cooperation Agency (SIDA) and the U.S. International Development Finance Corporation (USDFC). The BUILD Fund has raised USD 49 million of first loss capital so far.

Patrick Egli, Head of Economy and Education Section, Swiss Agency for Development and Cooperation, added: "The BUILD Fund, a partnership between the United Nations Capital Development Fund (UNCDF) and Bamboo Capital Partners, is a key blended finance vehicle delivering positive change on the ground. The BUILD Fund is occupying an important space in the Blended Finance landscape as only a small fraction of global Blended Finance reaches LDCs. This extra liquidity in the BUILD Fund, will help deliver positive impact and help catalyze progress towards the SDGs in LDCs all over the world; and in Zambia and Zimbabwe in particular. With this investment into the BUILD Fund, the Swiss Government, on behalf of the Swiss people, is helping to fulfil and maintain Switzerland's support for the SDGs."

Jean-Philippe de Schrevel, Founder and Managing Partner, Bamboo Capital Partners, said: "This investment provides a real boost to the BUILD fund – both in terms of funding and technical assistance. We are grateful to the Government of Switzerland for the confidence they place in the Fund to deliver positive change and impact in the least developed countries, and especially in Zambia and Zimbabwe. This is an impactful investment from a key actor in the region."

Anders Berlin, UNCDF Director of the Least Developed Countries-Investment Platform (LDC-IP), said: "We believe this is a particularly exciting collaboration, and for many reasons. It is a true public – private partnership focused on delivery. The partnership will enable investments to flow into two very challenging markets in dire need of SDG positive investments. Finally, the partnership takes advantage of the comparative advantages of each partner. UNCDF will be responsible for sourcing and preparing investments to the BUILD fund, finding SDG positive investments, which otherwise may not be funded. In UNCDF's sourcing operation we do not compete with other more commercial players but try to provide an additional value to the market players. Often companies are not yet credit worthy and UNCDF can provide some business development support to make them investment ready by the Fund. We very much look forward to join forces with our partners SDC and Bamboo to support promising companies in Zambia and Zimbabwe."