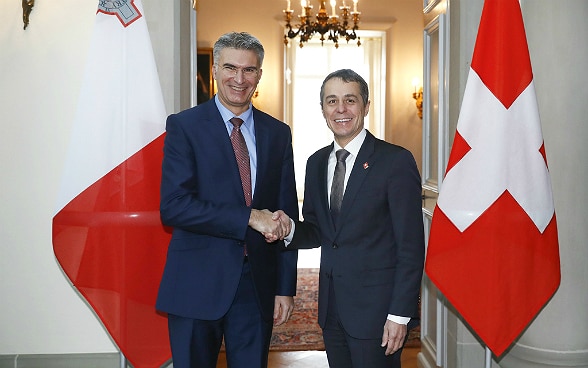 The two foreign ministers met for talks at the Von Wattenwyl House in Bern.
Malta has been a member of the European Union since 2004, and it held the presidency of the Council of the EU in the first half of 2017. Mr Cassis briefed his Maltese counterpart on the current status of Swiss-EU relations. The two foreign ministers also discussed the future of the EU and the challenges it currently faces.
The main bilateral issue discussed was the ongoing cooperation between the Mediterranean Academy of Diplomatic Studies (MEDAC) and DiploFoundation. MEDAC was established by the governments of Switzerland and Malta in 1990. It offers programmes in diplomacy and international relations, focusing on the Mediterranean region. It is housed on the campus of the University of Malta. DiploFoundation is a non-profit foundation established by Switzerland and Malta in 2002. It is committed to developing policy-making capacities in small and developing states.
International issues were also discussed, with the focus on the situation in the central Mediterranean and more specifically Libya. Other issues addressed were current developments in the Syrian conflict and the outlook for the Middle East peace process between Israel and the Palestinian National Authority. Finally, the talks also covered the significance of International Geneva, particularly in relation to cyberspace and digitalisation.
---
Further information:
Bilateral relations Switzerland–Malta

---
Address for enquiries:
Information FDFA
Bundeshaus West
CH-3003 Bern
Tel.: +41 58 462 31 53
Fax: +41 58 464 90 47
E-Mail: info@eda.admin.ch
---
Publisher: