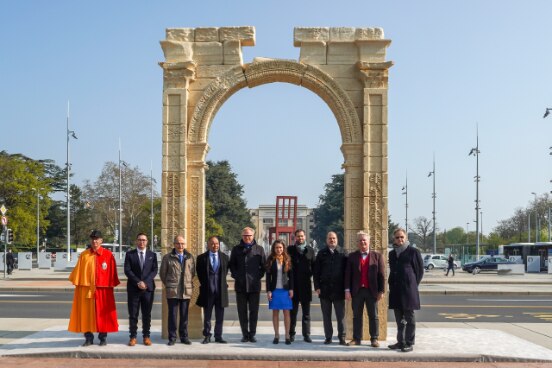 By the 2nd century AD, Palmyra, a caravan city built on an oasis in Syria's Tadmur desert, was a flourishing stopping-place on the main trade causeway between East and West. It was also a place of extraordinary multi-cultural prosperity.
Linked to the historical foundations of modern near-eastern and western civilization, Palmyra is a tangible representation of value systems, beliefs, traditions and lifestyles. Considered to be of outstanding universal value to humanity, it was inscribed on the UNESCO World Heritage List in 1980.
In 2015, many important structures in Palmyra were destroyed by the group calling themselves Islamic State. At that time, the Institute for Digital Archaeology was in the early stages of a cultural heritage protection project in collaboration with colleagues in the region. Plans were made to create a large-scale replica of one of the site's most important monuments —Palmyra's Triumphal Arch — using a combination of computer-based 3D rendering and pioneering 3D carving technology. The goal was to use the structure to send a message of peace and to draw attention on the need to preserve the intangible heritage of cultural property, which in no way can be replicated.
Since its unveiling on London's Trafalgar Square in April 2016, the Arch has been on public display around the world. The structure promotes and is a reminder of the triumph of cooperation over conflict, optimism over despair, and human ingenuity over senseless destruction.
On 25th and 26th April, with the support of the Government of Switzerland, UNESCO is organising one of the most important conferences of 2019 on the subject of cultural heritage protection, "Protecting Cultural Property: International Conference on the 20th Anniversary of the 1999 Second Protocol to the 1954 Hague Convention". A first-of-its-kind meeting, the UNESCO conference will bring together State representatives, stakeholders, and international experts to reflect on the achievements of the Second Protocol to the 1954 Convention - a key landmark in international humanitarian and cultural protection policy.
Switzerland and Geneva are proud to underline their commitment to peacebuilding and cultural protection through the support of these initiatives.