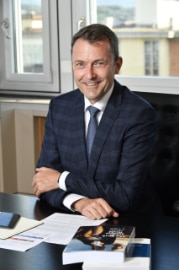 I would like to welcome you to the website of the Permanent Mission of Switzerland to the United Nations Office and to the other international organisations in Geneva.
Geneva is one of the world's most important centres of multilateral diplomacy, with dozens of international institutions and organisations, including the second headquarter of the United Nations, hundreds of non-governmental organisations, leading academic and scientific institutions and a significant number of internationally renowned private companies. With several thousand annual meetings attended by more than 200,000 delegates from all continents, Geneva is also the world's most active conference centre.
Complementing the work carried out from New York, Geneva is at the heart of the immediate operational response to the crises we are experiencing and the medium and long-term management of the major challenges of our time. Whether in the field of health, digitalisation, human rights, migration, disarmament, labour, intellectual property or meteorology, the discussions and decisions taken here have a daily and permanent impact on all the inhabitants of our planet.
At a time of major changes and upheavals - climatic, economic and geopolitical - Geneva, with the neutrality, stability and tradition of hospitality of Switzerland, offers an ideal setting for discussion and collaboration to find innovative and efficient solutions in the interests of all.
The unique concentration of international players, their expertise and know-how also make Geneva an ideal place to deal with the major issues of the 21st century related to technological and scientific developments such as the influence of artificial intelligence on the world of work, big data or the impact of genetic advances on medicine or agriculture.
Finally, International Geneva is a strategic asset for the Swiss foreign policy. It serves as a platform to promote Swiss interests and values and enables Switzerland to contribute to the search for global solutions for a safe, just and sustainable world. It is also an important instrument for dialogue with all states and thus a privileged position on the global political and economic stage. Due to the scope of the work and the results obtained by its actors, it offers considerable diplomatic and media visibility.
The Swiss Mission has a dual function within this unique ecosystem. On the one hand, the multilateral division represents Switzerland in international organisations and maintains close links with all other actors radiating.
On the other hand, the Host State Division ensures the proper implementation of Switzerland's host state policy in order to guarantee the smooth functioning of international relations. In close cooperation with the local authorities, it facilitates the daily work of the actors in international Geneva by providing optimal framework conditions adapted to the changing environment.
The Swiss Mission's website allows you to find more information about International Geneva, its activities and the organisation of the representation.

Thank you for visiting our website – I hope you will find it interesting!
Jürg Lauber
Ambassador
Permanent representative of Switzerland to the United Nations and the other international organisations in Geneva