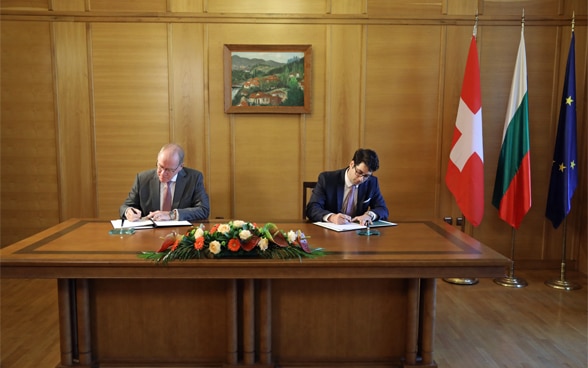 Swiss-Bulgarian Cooperation Programme
The second Swiss contribution to Bulgaria amounts to 92.5 million Swiss francs. The implementation of the Swiss-Bulgarian Cooperation Programme will officially be launched after the agreement has been ratified by the Bulgarian Parliament. The support measures have to be implemented until the end of 2029.
The aim of the new Swiss-Bulgarian Cooperation Programme is to contribute to the strategic reforms undertaken by Bulgaria as well as to strengthen existing and create new Swiss-Bulgarian partnerships. It will target areas where there are proven needs of Bulgaria and opportunities for Switzerland to add value with its expertise and experience. Therefore, the new programme will focus e.g. on:
protecting the environment and the climate through improved air quality, the disposal of obsolete pesticides and the sustainable use of a national park;
strengthening innovations through scientific cooperation and exchange in research;
mainstreaming dual vocational education and training;
strengthening of health and social system;
promoting civic engagement and transparency.
Second Swiss contribution
The second Swiss contribution is an investment in Europe's security, stability and prosperity. It seeks to strengthen cohesion in Europe and to support countries that face exceptional migration challenges. Through the Swiss contribution, Switzerland is furthermore strengthening and deepening bilateral relations with the EU partner countries and the EU as a whole.
The second Swiss contribution has a total value of CHF 1.302 billion and a duration of ten years until the end of December 2029. The Swiss contribution was approved by the Swiss Parliament on 3 December 2019 and released on 30 September 2021. On June 30 2022, Switzerland and the EU signed in Brussels a Memorandum of Understanding (MoU) specifying key parameters of the contribution such as the amount, its distribution among the partner countries, thematic priorities and principles for cooperation and implementation.