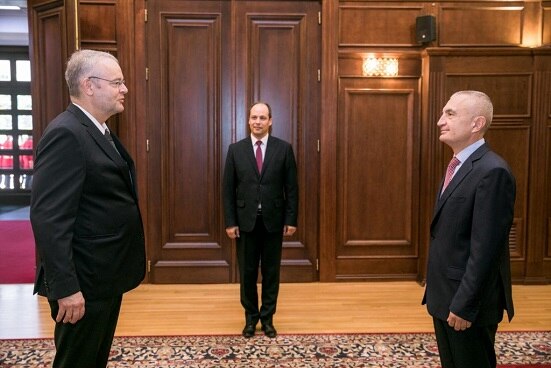 As of today Switzerland has a new ambasador in Albania: Mr. Adrian Maître who presented his credentials to Albania's President, Ilir Meta. During the ceremony the President praised the role Switzerland plays in support of Albania's reforms and EU integration.
"The establishment one year ago of the Swiss-Albanian Chamber of Commerce is very positive and the opportunities for cooperation in this area are many", said President Meta at the accreditation ceremony. He specifically praised the continuation of the Swiss Cooperation Strategy with Albania for the period 2018-2021 which he considered as a very good opportunity to support local governance and fight poverty in remote areas.  
"Switzerland and Albania have excellent bilateral relations which we want to maintain and deepen", said Ambassador Maître. "The Swiss Embassy has an important component: a cooperation programme with clear strategic focus in support of Albania's reform agenda", added Ambassador Maître.
Mr. Maître takes his assignment after his predecessor Christoph Graf who ended his mandate in Albania in May 2018. Prior to this assignment Ambassador Maître was Deputy Head of Cooperation with Eastern Europe and Central Asia at the Swiss Ministry of Foreign Affairs. He is the 8th resident ambasador in Albania since 1992.  
Formal diplomatic relations between the two countries started in 1970 when Switzerland mandated its ambasador in Belgrade, former Yugoslavia, to cover relations with Albania. It was in 1992 that Switzerland opened its proper Embassy in Tirana.