What Makes Women Farmers Confident?
Article, 11.04.2017
They build their own houses, they run their own business, they do their own farming. In the one of the most remote areas of Armenia, Syunik region, several women farmers are the single heads of their household. Meet two female farmers who are united over the single idea of taking the life in their own hands, with their unique approaches. Both women are participants of a Swiss funded project, which aims to achieve substantial economic development in the regions of Vayots Dzor and Syunik.
"By no means was I ever willing to depend on my children."
Living alone in a house, where her big family of five members spent the brightest years of their lives, Chnashkharhik Mkrtumyan finds peace in work. Chnashkharhik, a 61-year-old woman has been farming for a very long time. She has been involved in cattle breeding for more than she can recall of. Together with her husband, Chnashkharhik owned a large farm with many cows, sheep, pigs and chickens. The mother of three children, two boys and a girl, supported her husband and family in everything. Most importantly, she shared the hard work of sustaining the family business. However, with the loss of her husband, came the loss of the farm.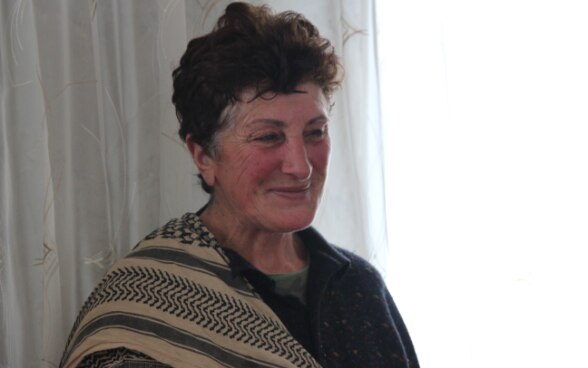 Years passed, Chnashkharhik found a way out, so did her children. One by one, the three children left the parental house to find their paths in the world full of possibilities. Talking about her children, Chnashkharhik could not help smiling. The everlasting love and pride she felt for her children, who were building their lives on their own, was filling the atmosphere. "By no means was I ever willing to depend on my children. Seeing them grow, create their own families, live a full life is what I always dreamt of," says Chnashkharhik.
"I am an active participant of all the trainings organized by the project," says Chnashkharhik. "We learn how to breed, raise and keep the animals. We learn about their health and keeping them healthy," she continues. "Other than being the only source of income, farming gives me confidence." And indeed, the statistics collected in the region during the implementation of the project shows, that 65% of women, who took part in the trainings on poultry farm maintenance got actively involved in farming.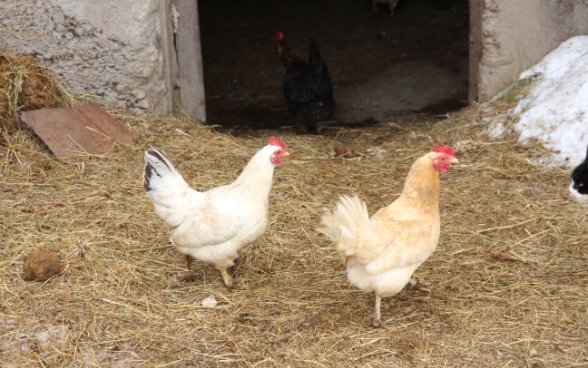 In her farm, as it is today, Chnashkharhik does poultry, apart from cattle breeding. She even shows her women neighbors how to keep chicks and encourages them to start poultry. She sells eggs and treats her children and grandchildren with them. At the moment, she manages to keep 8 cows, as well as 5 sheep and 15-30 chickens depending on the season. During the warm period of the year, she manages to get up to 30 liters of milk a day. Besides selling raw milk to the local milk collecting centers, Chnashkharhik also makes cheese, "Matsoun"- Armenian yogurt, and sour cream. The process of milking the cows is dramatically eased, thanks to the milking machine, which can simultaneously milk two cows.
Besides farming, Chanshkharhik loves to read novels and poems. "We are born unwillingly, we live wondering, we die with desire," Chnashkharhik quotes famous Armenian poet Avetik Isahakyan.
Starting from scratch
Anna Davtyan, a 40-year-old farmer lives in Ishkhanasar Village, in the southern part of Armenia. The village is located about 1700m above the sea level, and some 230km away from the central markets in Yerevan. Anna moved to Syunik region after having lived in Nagorno- Karabakh for about 30 years, where she used to have a big farm. Here as well, she wanted to start a farm but was not sure how. Being a single woman and a newcomer in this region was not an asset to begin a business. In 2009 Anna joined the training on "Planning and Development of a Farm for Female Farmers" provided by a Swiss-funded livestock development project, implemented by the Strategic Development Agency, a local NGO.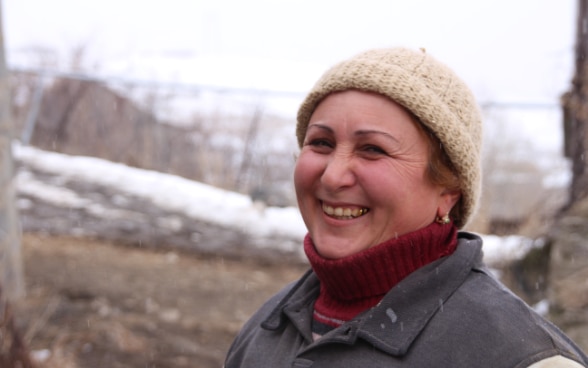 "I have learnt to calculate my expenses and keep track of my input and output. I have also learnt all about vaccination and good standards of barn construction resulting in high quality milk production." Anna started with only two cows, and gradually increased the number to 13 cows during several years of cooperation with the project.
"I am very busy" Anna proudly says, talking about her day, which starts at 4 o'clock in the morning every day of the week, with no exceptions. She cleans the barns, feeds and milks her 13 cows, as well as other animals including sheep, pigs and chickens. As she says, "now, I can take care of my cows and other animals even in an emergency situation, before the veterinarian arrives. This gives me confidence! I do not completely rely on the regional veterinary services."
"The way to success was challenging" Anna says. One of those challenges was and remains the need of purchasing a milking machine, as Anna does all the work by hand. Aside from farming, the woman farmer has also opened her own little market, for selling the products produced exclusively by her. The store is called "Anna's market."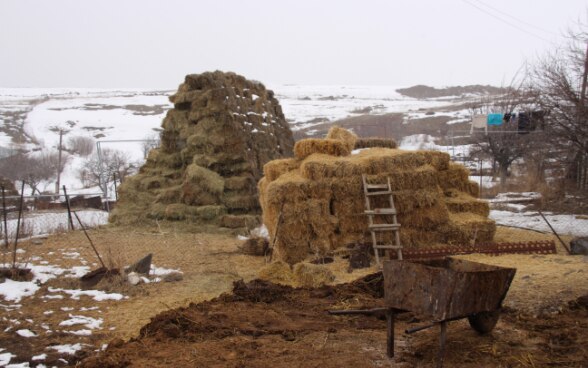 Anna has already managed to build the house of her dreams. It is not big but clean, cozy and green. The yard is full of hay, chickens are freely running around, and a white and kind dog accompanies the woman farmer loyally everywhere. After all, Anna still wants to enlarge her farm." Last year I have been honored to receive the regional "Female Hero" award, on which an article has been printed in the local newspaper," Anna proudly shows the carefully saved newspaper and her certificate. In addition, Anna dreams of getting a chance to visit countries with developed agriculture, and learn more.