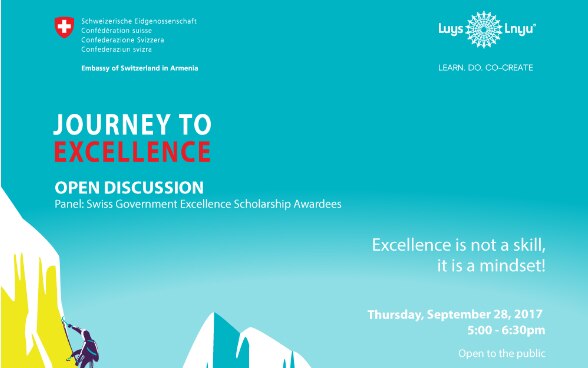 Each year the Swiss Confederation awards Government Excellence Scholarships to promote international exchange and research cooperation between Switzerland and over 180 other countries. 
For Armenian scholars, the program is coordinated in partnership with Luys Foundation. For more information about the guideline for applicants and the required skills, please follow this link: The Swiss Government Excellence Scholarships.
From 2012 to 2016, eight Armenian Scholars have been granted Swiss Government Excellence Scholarships to pursue their postgraduate studies in the Swiss centers of excellence. Today, they are already pursuing their successful professional careers, many of them in Armenia. This promising state of things also thanks to their experience in Swiss excellence.

This year, the Swiss Government Excellence Scholarship program will be presented in an event organized with the Luys Foundation, participants will have the chance to listen and to learn from previous awardees experiences and knowledge. The conference will celebrate the Swiss Government Excellence Scholarships and the partnership between the Swiss Embassy in Armenia and the Luys Foundation as well as officially announce the opening of Swiss Government Excellence Scholarships application for 2018-2019 academic year.

This unique conference will be held on September 28th event, at 5pm at Luys Foundation, 2/2 Melik-Adamyan in Yerevan. Lukas Gasser, Ambassador of the Swiss Confederation to the Republic of Armenia, will share his insights into the Swiss concept of excellence, which is recognized worldwide. His presentation will be followed by a panel of the Scholarship Awardees who will speak about their Journey to Excellence: their expectations, exploration, and experience. They will answer prospective applicants' questions and give recommendations. The moderation and closing remarks will be addressed by Mrs. Jacqueline Karaaslanian, Executive Director of Luys Foundation.