Women from the South Caucasus
Article, 08.03.2019
Today the whole world celebrates the Women's International Day. Everyone - media outlets, organisations, countries, groups or individuals - trumpet in unison the global role of women - caretakers, farmers, educators, scientists, entrepreneurs, so on. Traditionally, we present the stories of amazing women from the South Caucasus Region who made their own contribution to development. 
Ruzanna Torozyan, Armenia
"Back in the early 2000s, sitting in a room full of men, I felt the urge to address the critical social needs of my community and take action," says Ruzanna Torozyan, the President of WINNET Armenia Association of Women Resource Centers. At 34 years old, Ruzanna was working at the municipality of her hometown Goris, located in Syunik province, Armenia. Willing to bring change and direct the administration's attention to overlooked issues, Ruzanna decided to run for the city council elections. From that point on, she never settled.
"The fact that the whole city council consisted of only men seemed strange to me. While they chose to focus on issues mainly related to construction and infrastructure maintenance, women's and children's needs were simply unnoticed by the local administration," recalls Ruzanna. Including female members in the working group, when the idea of women being involved in politics was considered irrelevant, has been challenging according to her. "Breaking the stereotypes I became the first female member of the city council, ready to make a difference," she says.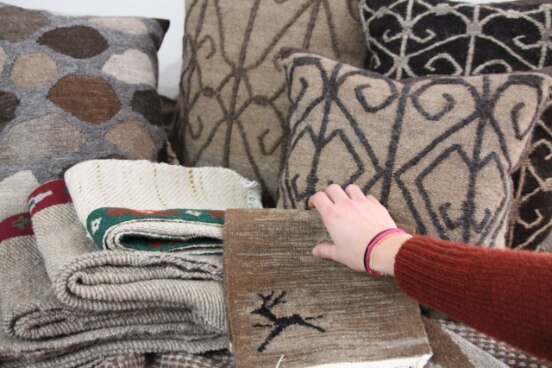 Currently, Ruzanna Torozyan is the Executive Director of Women's Development "Resource Center" Foundation, active in provinces Tavush, Syunik and Lori. Together with her peers Ruzanna has established six resource centers in six different cities of these provinces, aiming to enhance the role of local vulnerable women in political, economic, and social life.
The resource centers themselves are quite unique models. Each center focuses on the needs and opportunities of its respective communities. Ruzanna brings the example of their most successful center established in the city of Goris and the workshop attached to it in the neighboring village Shinuhayr: "About 80 women, 45 of which are full time workers, design and manufacture organic wool products inspired by local patterns," proudly states Ruzanna. Read how Switzarland contributed to the establishment of the workshop here.
The Foundation also encourages active participation of women in local issues. "Some of the women attending our resource center, are highly interested in politics," Ruzanna says. "We encourage those women to be politically active by developing their capacities, educating themselves on particular topics, helping them in designing their campaigns, handling PR, and so on."
In 2012, at the local council elections, four resource centers have supported 36 women, 28 of whom have been elected as councilors․
Mayvala Surmanidze, Fushrukauli village, Georgia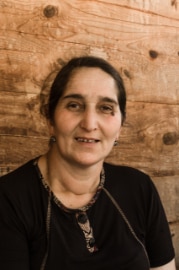 Mayvala Surmanidze, 52, is one of 135 residents of the Phushrukauli village and the only woman who ardently tries to revamp an ancient Georgian tradition of beekeeping. Jara is a very rare type of beekeeping that can be found today in a remote mountainous region of Ajara (West Georgia). It is a hive made from hollowed-out logs placed high in remote places and in trees to protect from bears.
Wild bees have always been present in Makvala's life. As a child, she was giving a hand to her father in running a family business of one hundred and twenty Jara hives. For the past thirty years, after her husband passed away, honey from wild bees helped her and her four children make both ends meet.
"Our village is known for Jara beekeeping. There was a time when almost every family would have Jara hives. It was very prestigious and highly priced. Buying a bee family was quite expensive at the time: one family would be traded for a goat, and a lamb," remembers Makvala.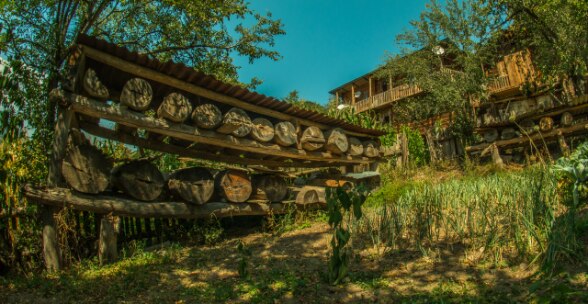 It was never a flying start for Makvala. With four infants to feed, she was afraid to deal with wild bees on her own. With Makvala's diligence and hard work over many years, children have elaborated special love for wild bees and Jara tradition. Today, with the help of her children – boys help her collect swarm and girls get involved during harvesting – Makvala yields about 100-120 kg of honey a year. Her clients are neighbours or Turkish traders who prefer Jara's 100% pure and wild honey.
"I feel connected with my roots when I watch bees working. Jara has always been our traditional family business and I do not want to let it go, even though it is hard for me to keep up. Beekeeping is regarded here as a male-dominated industry and I have a lot to learn to master it" – says Makvala.
The tradition is preserved and rejuvenated in the Surmanidze's family. Makvala has already applied for the bio certification, which will add value to her Jara honey.