Women vis-a-vis the Pandemic
Article, 11.09.2020
The current year of 2020 has turned out to be very unusual. It became apparent rather early that the coronavirus was not just any other infection, but the cascade of shutdowns that followed could not have been predicted. It did not take long for institutions and companies, as well as entire districts and countries, to close down one after another, until the whole world found itself in quarantine. However, against this worrying background, three women from the South Caucasus countries saw a silver lining.  
Armenia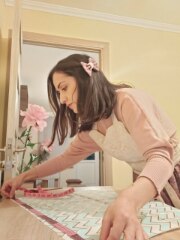 Armine Kochoyan, 29, is a woman entrepreneur from the Amasya community, Shirak region, Armenia. Economist by profession, Armine has graduated with honors from the Armenian State University of Economics, yet always felt her connection and love towards the arts and sewing. Returning to her home community after completing her studies, Armine remained unemployed due to the lack of opportunities in the local labor market. Responding to this situation, the Swiss-funded "Women Economic Empowerment in the South Caucasus" program offered Armine a chance to realize her childhood dream. "From the very moment I started sewing at the age of six, I found myself captivated by the creative process. What I do now for living gives me tons of joy," says Armine.
Years back, following her initial decision to pursue her aspiration, Armine started by producing small volumes of hair accessories. As her talent grew, Armine became involved in the WEE program, stepping on the path of establishing her own business. With the knowledge gained from the sewing training organized by the program and the equipment it provided (such as a sewing machine and appropriate furniture), Armine was able to set up a workshop and broaden her lineup of products, creating figurative dolls, decorative pillows, bedding, and much more.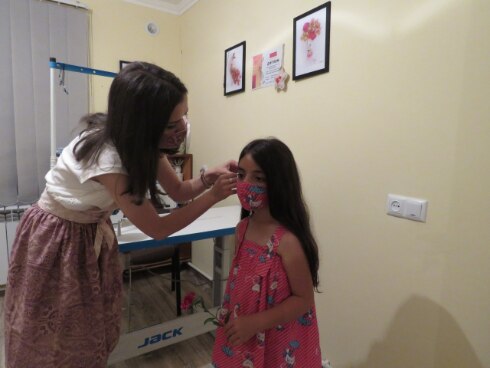 Armine's newly-created business was blooming when the COVID-19 pandemic struck, resulting in a dramatic decrease in sales, but Armine never stopped working. Since the beginning of the lockdown, Armine reimagined her creative process and came up with new products. "One day I was walking down the street and noticed how sad people's faces are behind their facemasks, especially those of the children," Armine recalls. Wanting to change this, Armine got behind the sewing machine. She started with creating facemasks for children from quality cotton fabrics with beautiful flower patterns and cartoon characters to make them more joyful. As she continued, she further developed the designs of the masks, using embroidery techniques to create a personal collection, which she named 'cherry blossom'. Astonished by the response and a sudden demand for the collection, Armine started selling them online.
Outside of her working hours, Armine found that a lot of free time had accumulated. "Being in isolation, I decided to put my leisure time to good use. While participating in online training events and webinars organized by the WEE program, I learnt about business planning, marketing, and branding, which helped me tremendously in the organization of the online sales of my new collection," says Armine.
Georgia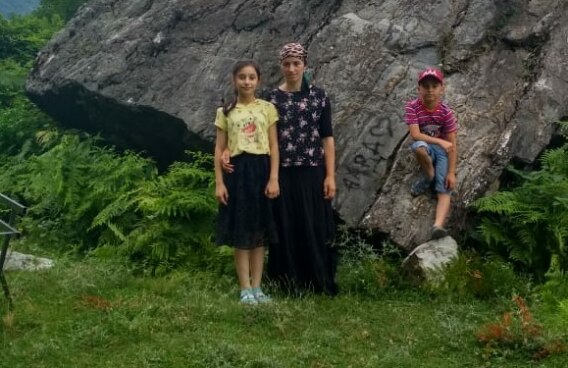 To answer the question of what kind of life a modern 25+ years old girl is supposed to live, many would say that she is probably single with higher education and looking for career opportunities, perhaps while traveling and having fun with friends; or, perhaps she just got married having met the love of her life, and so on. There can be many variations to these scenarios – indeed, the sky's the limit – but none will come close to the life story of Madina Bagakashvili.
When Madina Bagakashvili had just turned 16, the so-called master of the family name, i.e. the Bagakashvilis, foisted an arranged marriage upon her. She had to marry a person she did not know, and whose marriage proposal she had already declined. She had different plans, but the master of the family was adamant that she would be married.
"I did not know him, he was from another village. The master promised me that my new family would let me continue my studies."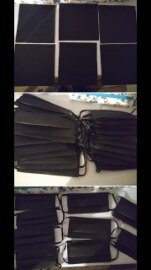 Now at the age of 28, Madina is a widow with two children, twelve and nine years old, and a bedridden mother-in-law to take care of. Her husband died two and a half years ago, leaving her holding her newest baby. It was a heavy burden on her fragile shoulders to be in the service of such a sizable family. In addition, the world around has started to collapse due to the pandemic. Yet as the saying goes, when life gives you lemons, make lemonade – which is just what Madina did.
"With no education, all I could do was to sharpen my sewing skills. Before the coronavirus, my two friends and I had received funding and bought sewing machines. We planned to sew sheets, towels and clothes for the villagers. Then the pandemic started, and that turned our plans upside down. The coronavirus is a disaster for everyone, please don't get me wrong, but it offered us another opportunity. There was a growing need for face masks, and we quickly adapted. We sewed more than 500 face masks, and at that time, we were the only providers for neighboring villages."
Madina and her friends have big plans. Once the pandemic is over, they will expand their atelier and offer more even services to their fellow-villagers.
Azerbaijan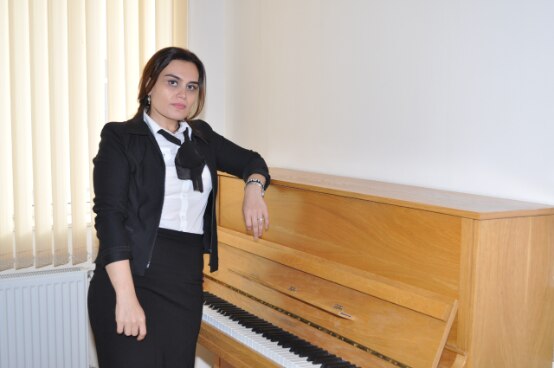 "As well as being a musician, I was also involved in organizing different festivities, like henna parties (a party organized by bride's family before the wedding), school events and birthday parties, and playing synthesizer at these events to earn my living. However, because the equipment I used to use was dilapidated and sometimes broken, I could not benefit from this business fully, until I joined the women's empowerment project. As part of this project, I attended very valuable training sessions, following which I submitted a business plan for funding. My plan was successfully accepted by the project, which helped me obtain new musical instruments and equipment. I started receiving more invitations to events from mid-2019, and could earn as much as 600 to 700 manats (around USD 350-400) per month, says Cavahir Agayeva, the beneficiary of SDC's Women's Empowerment Project from the Zira village, Khazar district.
"Everything was going quite well until COVID-19 reached Azerbaijan. It simply stopped my business, and I started panicking, experiencing some difficult physiological stress. At this difficult time, the UNDP project offered psychological support for women, which I also joined. This helped me a lot, and I started looking at this pandemic as an opportunity. I finished some of my musical compositions which had been left unfinished for a long time, and offered a couple to a number of different musicians. At first, it did not work, but then I managed to sell two of my pieces, which helped me slightly, both materially and morally. I am currently working on different projects, and I continue joining online training programs organized by the project. I am promoting my business on social media even under the quarantine regime to make sure that I receive more invitations for when this pandemic is over."
"I hope that this pandemic finishes and life returns to normal soon. I also want to tell all business ladies not lose their spirit. We started businesses once, and we can re-start them again."