Welcome by the Consul General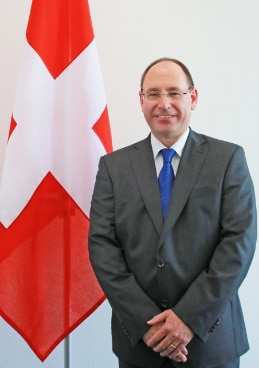 Sacha Bachmann, Consul General of Switzerland in Shanghai
Dear fellow Swiss citizens, dear friends of Switzerland,

Welcome to the website of the Consulate General of Switzerland in Shanghai!
Thank you for your interest in Switzerland and our activities. The strong and long-standing relations between Switzerland and China have continuously intensified and flourished. China is Switzerland's most important trading partner in Asia. Several hundred Swiss companies maintain an impressive Swiss economic presence in the Yangtze Delta Region.
The Consulate General of Switzerland in Shanghai promotes exchanges in areas such as trade & investment, science & technology, culture and education between Switzerland and the Yangtze Delta Region. We closely work together with our network of official representations in China as well as in partnership with other Swiss entities such as Swissnex in China, the Swiss Business Hub and Pro Helvetia.
The jurisdiction of the Consulate General in Shanghai includes the provinces of Anhui, Jiangsu, Zhejiang and the municipality of Shanghai. The Consulate General provides the full range of consular services for the Swiss community as well as visa services for residents in our jurisdiction.
Please feel free to contact us if you require any assistance or if you wish to know more about Switzerland. You may follow us on our social media channels and subscribe to our bi-annual newsletter "Grüezi Shanghai" to learn more about our tasks, activities and events. We look forward to staying in touch with you and also to meeting you in person at our events.
Best wishes,
Sacha Bachmann
Consul General