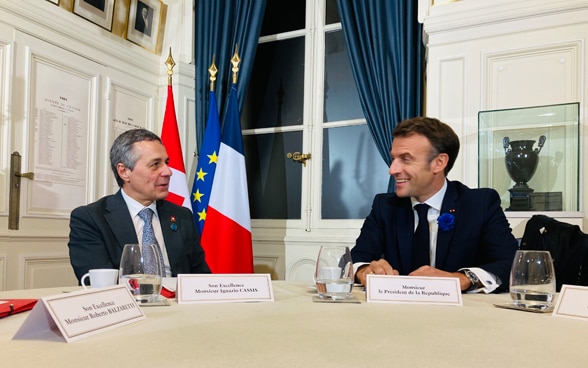 The discussions in Paris follow on from exchanges between the two presidents on the margins of the first meeting of the European Political Community on 6 October in Prague. During the talks, both presidents praised the strength of Swiss-French relations and cross-border cooperation between the two countries. "We are two countries with a common destiny, and there is a great depth to the human, cultural and economic ties between us. We are not just neighbours – we are friends," stated Mr Cassis.

The agenda also covered the war in Ukraine and the security situation in Europe, with Mr Cassis announcing the Federal Council decision of 2 November 2022 to provide CHF 100 million to help people in Ukraine face the harsh conditions of the upcoming winter.

The two presidents also discussed Switzerland's non-permanent seat on the UN Security Council for the 2023–24 period, whereby Mr Cassis reiterated Switzerland's commitment to promoting lasting peace, protection of civilians, climate security and a more effective Security Council.

Swiss-EU relations and the European Political Community

Mr Cassis also used the meeting in Paris to brief Mr Macron on the status of Swiss-EU relations, including the current in-depth exploratory talks taking place between Switzerland and the EU in line with the Federal Council's objective to stabilise and develop the bilateral approach. In addition, the two presidents discussed the new European Political Community platform initiated by Mr Macron, which Switzerland sees as an opportunity to step up exchanges between European partners. "Against the current backdrop of military confrontation on the European continent, the need for dialogue is more vital than ever. Switzerland therefore pledges its active support and partnership in assisting the development of the European Political Community," Mr Cassis emphasised.

Global issues addressed at Forum

This year's Paris Peace Forum was attended by a number of heads of state and government, ministers, and representatives of international organisations, civil society and the business sector. Discussions focused on the fallout from global crises, solutions for climate protection and the development of a more secure digital environment. Mr Cassis also took part in a panel discussion on challenges and new approaches to peace, stating that "Switzerland has a role to play in fostering dialogue, finding solutions and making a positive contribution to the resolution of all conflicts."

At the invitation of Mr Macron, this evening Mr Cassis will attend a dinner organised at the Elysée Palace in honour of the heads of state and government participating in this year's Forum.
---
Further information:
Bilateral relations Switzerland - France
Paris Peace Forum

---
Address for enquiries:
FDFA Communication
Federal Palace West Wing
CH-3003 Bern, Switzerland
Tel. Communication service: +41 58 462 31 53
Tel. Press service: +41 58 460 55 55
E-mail: kommunikation@eda.admin.ch
Twitter: @SwissMFA
---
Publisher: