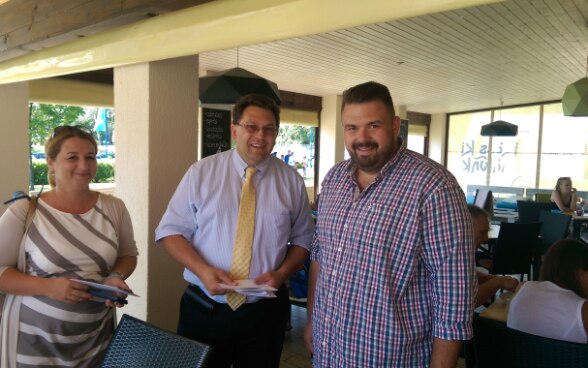 The Lake Geneva and Balaton project is developing well: the largest inland lake regattas in Europe, the Bol 'Or Mirabaud (Lake Geneva) in Switzerland and the Kékszalag (Balaton) in Hungary, have already concluded a partnership−an important pillar of the project. Another important pillar forms the collaboration with the École Hôtelière de Lausanne, with whom the modernization of the hospitality industry is planned. The water rescue services of the two lakes are also involved in the partnership project: On 10 June the Balaton rescue services participated with a boat in the sailing regatta on Lake Geneva.

On the occasion of the Kékszalag in July, the Alphorn Academy from Switzerland performed at different festivals in the Balaton region.

On 19 July, Laurent Wehrli, member of the National Council and mayor of Montreux, visited Balatonfüred and Keszthely and met the Hungarian partners of the Lake Geneva-Balaton project. His interlocutors were the vice-president of the Hungarian parliament, Jenő Manninger, the mayor of Keszthely, Ferenc Ruzsics and Ambassador Viktoria Horváth. The partners were able to discuss common projects for the future in a pleasant atmosphere.  The presence of the Balaton region is intended for this year's Christmas Market in Montreux .