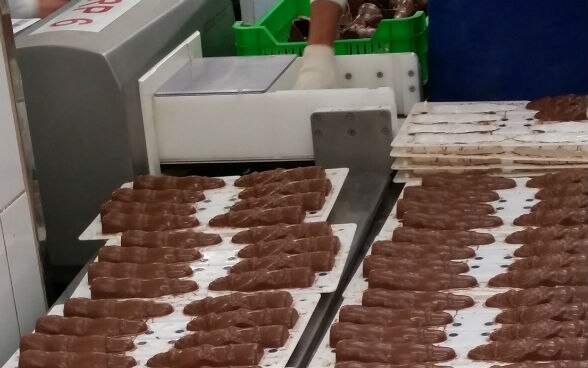 The visit of the Nestlé chocolate factory was a dream come true for every chocolate lover. It is the only factory within the Nestlé Group that specializes solely in the production of chocolate figurines.   
Jean Grunenwald, managing director of Nestlé Hungária, presented Nestlé's ambitions and values in Hungary. Afterwards, the head of the plant, Héléne Kovalevsky, gave a summary about the key figures of the factory.
The chocolate figurines produced in Diósgyőr are available in 23 countries, in addition to Hungary. Thus, 88% of the plant's production is for export. Since there is a growing interest toward chocolate figurines, an annual increase in the plant's production can be observed. However, the firm's credo is that the company's success also has to create value for the community and the whole country.
The highlight was a guided tour of the production site, through which the visitors could get to know the manufacturing process. Furthermore, one could assist the staff in the quality assurance by doing different taste tests.
If you would like to gain insight into the production in Diósgyőr, please follow this link (in Hungarian): https://www.youtube.com/watch?v=mEbT5NAxjeU