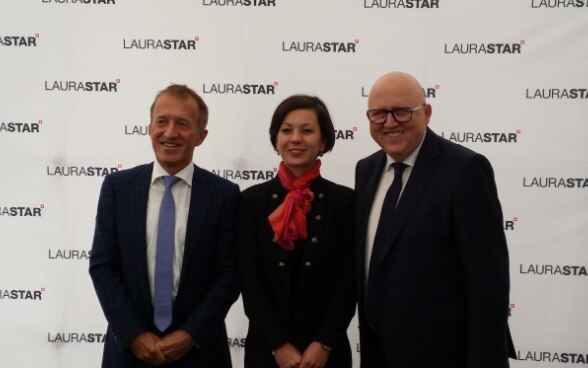 Numerous guests accepted the invitation to the inauguration ceremony of Laurastar's new service center in Kapuvár. Thanks to an investment in the amount of one million euro, this service center now stretches over an area of 4'000 m2.
After the warm welcome speech of the company's founder, Jean Monney, several other speakers addressed the audience. Among others, the mayor of the city of Kapuvár, György Hámori, the Deputy State Secretary for foreign economic affairs, Dr. Petra Pana, and the Swiss Ambassador to Hungary, Peter Burkhard. The speeches highlighted the strong ties to the local area and the people working there as well as the excellent economic relations between Switzerland and Hungary. Having made investments of a total of 4.8 billion euro, Switzerland represents the fourth largest investor in Hungary.
The facility in Kapuvár supplies forty countries with spare parts but also provides high-quality service. The guests could see for themselves on a subsequent guided tour of the premises.