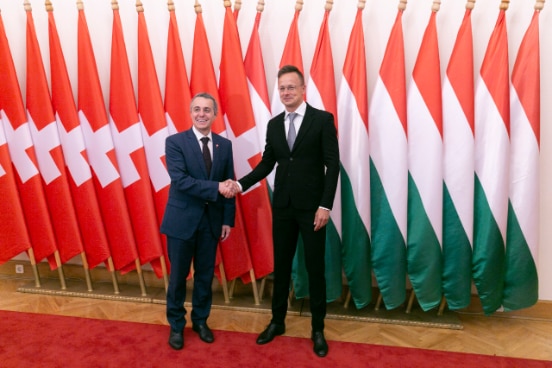 Mr Cassis' guest address to the Hungarian Ambassadors' Conference in Budapest focused on Switzerland's foreign policy strategy. He also explained the importance of adopting a methodological approach to developing the strategy, stating that "this three-stage strategy cascade means our foreign policy is more coherent, as well as raising Switzerland's global profile. It shows everyone what we stand for, what our strengths are, and where there are opportunities for close cooperation." He went on to explain that as a highly interconnected country and host to a number of international organisations, it was essential that Switzerland focus on its strengths.

Open dialogue on common European values

Mr Cassis stressed the importance of Switzerland's diversity as a basis for its foreign policy: "Our country is characterised by regional autonomy – political, linguistic and cultural. But that is also why we are united, because each region is independent and allowed to express its individuality." He also emphasised how such diversity requires a good deal of awareness, understanding and tolerance – values that also characterise Swiss foreign policy.
The strong ties between Switzerland and Hungary were also addressed by Mr Cassis, who stated that "in addition to growing bilateral trade, our two countries are engaged in an open dialogue on common European values."
Official working meetings centred on European policy and global affairs

Talks with Trade and Foreign Minister Péter Szijjártó and Justice Minister Judit Varga also focused on European policy. Mr Cassis underscored the fact that Switzerland would continue to act as a partner the EU could rely on, as well as "working side by side with the EU for the stability and prosperity of Europe." To this end, the Federal Council has requested Parliament to release the second Swiss contribution, which includes Hungary as a beneficiary country. Mr Cassis reiterated that Switzerland remained part of the European community of values, which are also cornerstones of Swiss foreign policy: promoting human rights, democracy, freedom of expression, the rule of law and protecting minorities.
Meeting with Swiss businesses

Mr Cassis also met with representatives of Swiss companies operating in Budapest. The one-hour discussion focused on the conditions faced by Swiss businesses in Hungary, Switzerland's third biggest trading partner in Central Europe. For Hungary, Switzerland is its fifth largest investor. In 2020, trade between the two countries amounted to CHF 2.4 billion.
Address for enquiries
FDFA Communication
Federal Palace West Wing
CH-3003 Bern, Switzerland
Tel. Communication service: +41 58 462 31 53
Tel. Press service: +41 58 460 55 55
E-mail: kommunikation@eda.admin.ch
Twitter: @SwissMFA