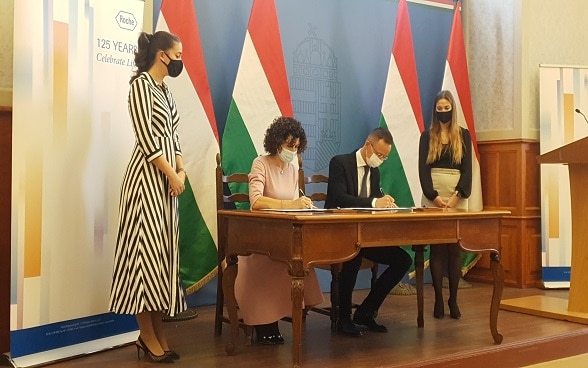 On behalf of Roche Magyarország Kft., Managing Director Raffaella Bondi signed the strategic partnership agreement and stated that she was looking forward to intensifying the cooperation even further in the future. Ultimately, this will benefit the Hungarian patients. Martin Kikstein, Managing Director of Roche SSC, added that Roche currently employs 1,750 people in its three Hungarian subsidiaries.

Roche has been in close partnership with Hungarian companies in the industry for many years and makes its global sales network available to them. Thus, it gives Hungarian innovations access to global markets. Hungary's high-export medtech sector generates annual sales of around 6 billion euros and employs 30,000 people in the country. As for Switzerland, this industry is of outstanding strategic importance for Hungary, which was also clearly demonstrated by the presence of Róbert Ésik, President of the Hungarian investment promotion agency HIPA. 

After signing the agreement, Foreign Affairs Minister Péter Szijjártó emphasized the importance of a strong health sector, which would be put to the test in times of the pandemic. More than ever, a country's competitiveness depends on its innovative strength. The Hungarian government is therefore grateful to Roche for supporting Hungarian companies. 

On behalf of the Swiss Confederation, Ambassador Jean-François Paroz congratulated the contractual partners and wished them every success in their future cooperation. As eleventh largest investor in Hungary, Switzerland plays an important role; bilateral trade developed dynamically in 2021. According to Hungarian statistics, it was 9% above the previous year's level. Exports to Switzerland increased by 8%.