Welcome message
Welcome Message from the Ambassador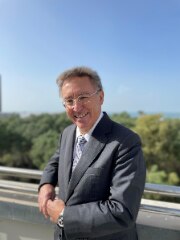 Dear visitors, 

On behalf of the entire team of the Swiss Embassy in Israel, I wish you a warm welcome to our website.
Switzerland and Israel enjoy a long-standing partnership in the fields of politics, the economy, science, and culture. These fruitful ties are built on a solid network of bilateral treaties. But even more importantly, they rely on the close interaction between our peoples. Personal networks between the two countries are a vital factor: More than 21,000 Swiss citizens (the majority of whom have dual citizenship) have chosen to live in Israel, while over 1,300 Israeli citizens currently live in Switzerland. The two countries have almost the same number of inhabitants and share various similarities, among them a vast number of bright minds dedicated to innovation and scientific progress, making both countries global leaders in these arenas. The Embassy is here to support and promote these dynamic relations for the benefit of all. As the Swiss Ambassador to Israel, I am delighted to represent Switzerland in this fascinating context and to further foster the close friendship between the two countries for many more years to come.
The Embassy's website and Facebook page provide interesting and useful information on the Swiss Embassy's activities across Israel; they also aim to enhance a greater understanding of Switzerland and Swiss culture. In addition, the website provides details on how to travel to/from Switzerland, information about work and life there, as well as interesting insights about Switzerland. You will also find information about Embassy services that facilitate various administrative proceedings.
Please do not hesitate to contact the Embassy via e-mail to send us your questions, comments or suggestions. Our team will be happy to assist you!
Best regards,
The Ambassador of Switzerland
Urs Bucher