Welcome Message from Ambassador Valentin Zellweger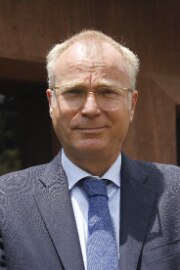 Karibuni Sana! Welcome to the website of the Embassy of Switzerland in Nairobi
The Embassy of Switzerland in Nairobi is in charge of bilateral relations between Switzerland and Kenya, as well as Burundi, Rwanda, Somalia and Uganda. In other words, Nairobi is the Swiss diplomatic hub for East Africa and the Great Lakes Region. Furthermore, the Embassy also assumes multilateral mandates, as Kenya is hosting UNEP and UN-Habitat.
As the new Ambassador to Kenya, I am glad to be back in this country where I began my diplomatic career over 25 years ago. Kenya has changed a lot over the years and I am definitely looking forward to discovering this new Kenya, in spite of the unique circumstances we currently find ourselves in. Switzerland is pleased to cooperate with, and actively support Kenya, in mitigating the negative consequences of Covid-19, through its cooperation programme.
I am happy to continue the good collaboration between Kenya and Switzerland, and look forward to strengthening the diplomatic ties between our two countries. The Embassy will put particular emphasis on promoting bilateral trade relations, strengthening governance (devolution and fight against corruption) and enhancing our cooperation in multilateral affairs. With all five countries under the Embassy's responsibility, my colleagues and I handle a number of diverse issues ranging from political, economic, educational and cultural relations, to development cooperation and humanitarian activities in the wider region. Close collaboration with government and private sector representatives, as well as civil society, but also with the Swiss communities in these countries, are pivotal aspects of our work.
The Consular team in Nairobi , supported by the consular agents in Kigali, Bujumbura as well as the Swiss Honorary Consulates in Mombasa and Kampala, are at the service of the Swiss communities and of those requesting visa information. In addition, you will also find information about Switzerland's development programmes managed by the Swiss Agency for Development and Cooperation (SDC) offices in Bujumbura, Kigali and Nairobi; the latter in charge of SDC's Horn of Africa programme.
The Embassy's website aims to be a resource for our Swiss citizens living abroad, as well as anyone interested in learning more about Switzerland; be it for travel, business, study, or just out of curiosity. You can find more information on the Embassy's activities on Facebook and on Twitter .
Valentin Zellweger
Ambassador of Switzerland to Kenya
and Ambassador Designate to Burundi, Rwanda, Somalia and Uganda