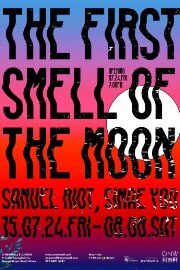 Swiss artist Samuel Riot and Korean artist Sinae Yoo merge acoustic and visual elements into a site-specific environment, allowing for immersion in a field of inter-sensory stimuli.
Sinae Yoo's practice is mainly based on video work, and she primarily emphasizes on navigating along the borders of the digital and physical realms. Samuel Riot mostly works in the field of sound and music and his practice is centered around generative-imaginative qualities of sonic impulses.
At O'NewWall E'Juheon, Sinae Yoo and Samuel Riot present a multi-channel video- and sound-installation, in which they explore the relationship between distance and desire created by technology and how shared images, ideas and thoughts contribute to blurring the lines between the virtual and physical world. In their collaborative work they approach the evanescent and ephemeral, and articulate an evocative presence of a transcendental source that falls beyond mere form and surface. While making use of contemporary pop-cultural references, their visual and auditive universe goes beyond the conceptions of the post-digital age. By means of sound and image they examine the materiality of the immaterial and search for cracks in the digital surface, to allow for humanization of a dystopian artificial cosmos dominated by glossy technology.
O'NewWall E'Juheon
8-6 Seongbuk-ro 8gil, Seongbuk-gu, Seoul
tel. 070-4401-6741
For location click here