Embassy of Switzerland in the Republic of Korea
Closing Notice
The Embassy will be closed on following dates.
20.09. (wednesday): internal event
28.09. (thursday) - 29.09.2023 (friday): Chuseok
Please call the Embassy to make an appointment. Walk ins are limited.
As the official representation of Switzerland, the Embassy covers all matters concerning diplomatic relations between the two countries. It represents Swiss interests in the areas of political, economic and financial affairs, legal arrangements, science, education and culture.
60th anniversary Swiss-Korean diplomatic relations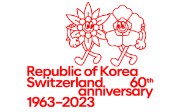 The year 2023 marks the 60th anniversary of diplomatic relations between the Republic of Korea and Switzerland. The Embassy launched an official website for anniversary programs, please feel free to visit out website!
Introduction about 60th anniversary
Travel Admin & Emergency Ready App
Download the free Travel Admin app, which provides support for Swiss citizens in preparing trips. It also offers useful information and services for travel. If you register your own trip in the app, the Federal Department of Foreign Affairs can send you specific information and, if necessary, contact you if there is a serious crisis where you are.

In addition, the Embassy recommends tourists and residents in the Republic of Korea to download the Emergency Ready App offered by the Ministry of the Interior and Safety (MOIS). The app provides real-time disaster alerts, important emergency and Embassy contact details, and information on the nearest shelters or medical facilities. You may find more information on the National Disaster and Safety Portal.