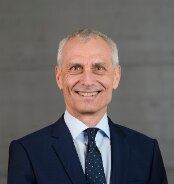 Dear Visitor,
Welcome to the website of the Embassy of Switzerland in Kosovo.
The relationship between Switzerland and Kosovo is very close and very good. In addition to close diplomatic and economic relations, the relation is characterized by strong human ties. About 200'000 people with Kosovar roots live in Switzerland. They actively contribute to the economic development, to the cultural life and politics in our country.  
Remittances sent by members of the Kosovo diaspora in Switzerland contribute to improve the living conditions of many families in Kosovo. In addition, to a large extent thanks to their important investments in Kosovo, Switzerland is the second largest foreign direct investor in Kosovo.
On this website you will find detailed information about Switzerland and the relationship between Switzerland and Kosovo. The website also gives you an overview of Swiss support projects in Kosovo since 1998. Additionally, you can find useful information and forms to download to apply for visa as well as to submit applications for project support and scholarships.
For any further information, the Embassy staff is at your disposal.
Sincerely yours,
Thomas Kolly
Ambassador of Switzerland to the Republic of Kosovo