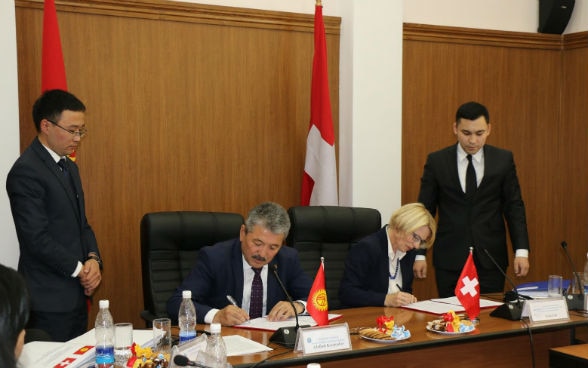 For this special occasion, the Swiss delegation arrived in Bishkek headed by H.E. Ambassador Livia Leu, the delegate of the Federal Council for Trade Agreements, Head of bilateral economic relations at the Swiss State Secretariat for Economic Affairs under the Ministry of Economic Affairs, Education and Research of Switzerland. 
The goal of this high level meeting was to develop and strengthen bilateral economic cooperation between Switzerland and Kyrgyzstan, in particular bilateral trade and investments and to address issues of the private sector. 
The 4th Commission meeting was co-chaired by H.E. Minister of Finance of the Kyrgyz Republic Adylbek Kasymaliev and by H.E. Ambassador Livia Leu. Discussions focused on the economic situation in both countries, as well as on opportunities for strengthening bilateral economic relations, trade, investments, and economic cooperation in the banking sector, tax issues, and tourism. 
Such meetings of the Kyrgyz-Swiss Commission are held on a regular basis - every three-four years since the Kyrgyz Republic and the Swiss Confederation signed an agreement on trade and economic cooperation in 1997. Switzerland's Cooperation with Kyrgyzstan began in 1993 shortly after Kyrgyzstan joined the Swiss-led voting group at the International Monetary Fund and at the World Bank. 
Switzerland has been supporting Kyrgyzstan in its transition to a market economy since the country gained its independence in early 90s. Since 1994 Switzerland has provided around CHF 350 million to Kyrgyzstan in the form of technical, financial and humanitarian support. 
"We hope and expect a lot from today's meeting and express our confidence that Kyrgyzstan and Switzerland have future prospects to continue development cooperation and ability to move forward on the basis of mutual interest", said H.E. Minister of Finance of the Kyrgyz Republic Adylbek Kasymaliev.   
"Kyrgyzstan is a key focal partner for Switzerland's international cooperation in Central Asia", said H.E. Ambassador Livia Leu. "Both countries hope to increase the economic relations in the future".
During her stay in Bishkek, H.E. Ambassador Livia Leu met with representatives of Swiss companies in the Kyrgyz Republic and visit several textile companies which benefited from the support of the Swiss Cooperation under the Trade Promotion Programme. The overall objective of the latter is to contribute to enhanced export competitiveness and export market diversification in Kyrgyzstan by providing sector specific support to small and medium enterprises and relevant trade support institutions in the textile, clothing and related handicraft sectors.