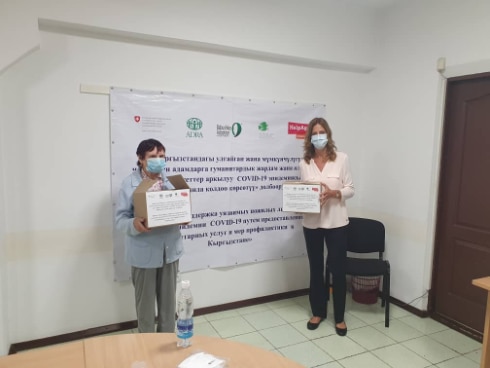 The Government of Switzerland allocated CHF 50'000 to protect the rights and wellbeing of elderly people. The support includes measures to inform and prevent COVID-19 infection, to prevent violence against elderly and to improve access to health and social protection services. This work is being conducted in collaboration with the Ministries of Health and Social Protection of the Kyrgyz Republic.
Currently, food packages and sanitary items are being distributed by the implementing partners HelpAge International in Kyrgyzstan, PA Resource Center for the Elderly People, ADRA-Kyrgyzstan and PF Babushka Adoption. 
The selection of beneficiaries was done with the support of local authorities and self-help groups for elderly people. It was based on income criteria and health conditions.
Today the Swiss Ambassador Véronique Hulmann participated in a food distribution in Kant. During her visit she highlighted the importance of providing aid to the most vulnerable people and congratulated representatives of the self-help groups for their outstanding commitment. The work of the volunteers who provide support and comfort to vulnerable people and contribute to find solutions to their concerns in all times is crucial. It contributes to enhance solidarity and social justice in the Kyrgyz Republic. She also thanks project partners for their work and commitment.